On Friday 13 September two cruise vessels and 4,500 tourists will coincide at the Port of Bilbao's cruise terminal in Getxo.
First of all, today Thursday, Celebrity Cruises' Celebrity Infinity, belonging to Royal Caribbean, arrived at 7.00 o'clock this morning from the French port of La Rochelle with 2,148 passengers on board, the majority of whom are British and American. The vessel, consigned by Willie Ibérica, is 294 metres long and will remain berthed overnight before sailing on Vigo at 13.00 hours on Friday. It is the first time that this cruiser, which covers wine-themed tourist routes, has called at the Basque Country, and will do so, including overnight stays, three more times this year. Its twin vessel, the Celebrity Constellation already visited us last year and in 2012 also.
On Thursday, 18 coaches will leave the terminal, together with a further 6 on Friday, in order to show passengers the different attractions of the Basque Country. The majority of tourists have opted for visits to the Guggenheim Museum or the Rioja wine cellars.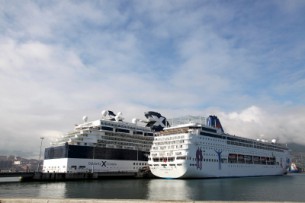 In addition, Iberocruceros' 216-metre long Grand Mistral , consigned by Bergé Marítima, will arrive from Dover at 9.30 on Friday. It will sail this same day for Lisbon at 17.00 hours. 1,392 passengers will disembark, while 992 others will be taken on board. This is the first of the two calls the vessel has scheduled for this year. In 2010, Iberocruceros was the first company to commit itself to Bilbao as an embarkation port.