By rail, the Port of Bilbao is directly linked to the Spanish national network and through this, to Europe and Portugal. It also has links with local networks.
The Port of Bilbao is connected to the vast European motorway network with direct accesses to cities like Madrid and links to many other urban areas. A lorry takes less than 4 hours to cover the Bilbao-Madrid route.
From the Port of Bilbao, taking the A-8 motorway to the east leads to Bordeaux, while in the opposite direction there are the Cantabrian Coast towns like Santander and Gijon, as well as those in northern Castile.
The A-8 motorway links the Port to Zaragoza and Barcelona.
The A-1 motorway connects the Port of Bilbao to Madrid, with links to Lisbon and the towns in the south of Spain.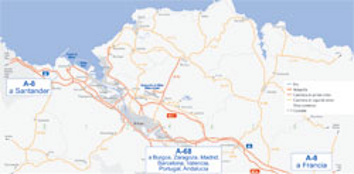 Bilbao is the port on the Atlantic Arc which makes most use of the railway, with 9% of dry cargo, rising to 18% if containers are included, being moved by rail into or out of the Port's facilities. Each week, over 40 trains enter or leave the freight station at Bilbao either departing for or arriving from Madrid, Barcelona, Valencia, Castellón, Sevilla, Zaragoza and Júndiz (Vitoria).All Port of Bilbao docks have road or rail accesses directly linked to the European motorway networks. In addition, within the very port acilities there is a TECO terminal and a marshalling yard with the following characteristics:
Surface: 120.500 m2
Marshalling Yard: 8 tracks between 500 and 780 meters long
Cargo Terminal: 2 400 meter long tracks
TECO Terminal: 6 450 meter long tracks
Bilbao Airport, that moves 4 million passengers a year, and is just 30 minutes away from the Port by car, offers flights to the main Spanish and European cities in less than two hours. Nearby Vitoria also has an airport facility.
An ambitious road and rail infrastructure development plan, already under way, will multiply the resources for goods movement in the Port of Bilbao. Noteworthy projects here include Bilbao's new ring road directly linked to the Port, the new freight rail track through the Serantes Tunnel and the "Basque Y" – the name given to the high speed train network being built between the three Basque capital.