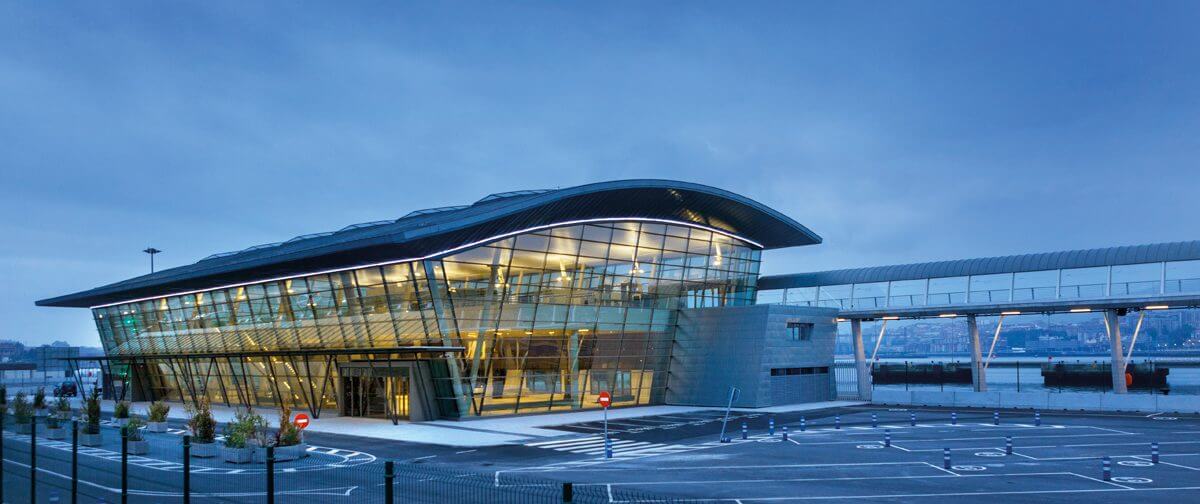 Based in getxo, the cruise facility is located beside a marina, a leisure área and a EU Flag Beach.
Bilbao city centre is only a twenty-minute drive away, as is the International Airport. Shuttle buses are available for the beach and nearby World Heritage Puente Bizkaia and for Bilbao city centre.
The Port of Bilbao welcomed 50 cruise ships in 2019
The Port of Bilbao welcomed 50 cruise ships in 2019 and 55,448 cruise passengers. The shipping companies that have placed their trust in the port include the French company Ponant, with its modern, luxury ships, and five German companies: Aida Cruises, Phoenix Reisen, Sea Cloud, Hapag Lloyd and TUI Cruises.
The cruise ship Europa 2 (Hapag Lloyd) was a stand-out visitor. In October, 411 passengers disembarked here on a sightseeing tour of the area, stayed overnight and flew back to Germany the next day. The same ship departed the day after its arrival with another 476 passengers who had flown in by plane.
Previously, in May, the Sea Cloud II luxury cruise ship (Sea Cloud Cruises) had been the subject of a very similar passenger disembarkation and boarding operation.
The cruise ship with the highest number of passengers this past season was the "Britannia" (P&O), with 3,921 passengers.
In terms of nationalities, unlike in previous seasons when the British were predominant, those who visited the Basque Country most often on board a cruise ship (29%) were from the United States (29%), closely followed by Germans (28%) and British (24%).
Pier and berthing for cruises

Situation
Getxo
Length Getxo 1 south
366 m
Length Getxo 2 north
318 m
Common Surface area Getxo 1 south + Getxo 2 north
6,425 m²
Length New Getxo 3
355 m
Surface area
25,300 m²
Depth
12 m
Vessel equipments and services

2 portable gangways
fuel supplies
water supplies
waste collection

Gangway features
Links of interest