Since 1992, the year in which the Outer Abra Extension works commenced, the Port Authority of Bilbao has invested nearly 500 million euros to reclaim more than two million square metres of land surfaces and 4.5 kilometres of piers from the sea.
Port Authority Projects in progress:

First Phase of Central Pier– Future Proofing Bilbao and stabilisation works on the old Punta Lucero quarry.
The works were adjudicated in June 2016 and will be completed in 2019, at an estimated cost of 74 million euros after the last modification. The European Commission will contribute 20% of this amount under the Connecting Europe Facility (CEF) Programme.
In the first phase, 334,000 m² of land will be reclaimed from the sea and 1,081metres berthing will be created together with 21-metre depths. The surfaces obtained will amount to more than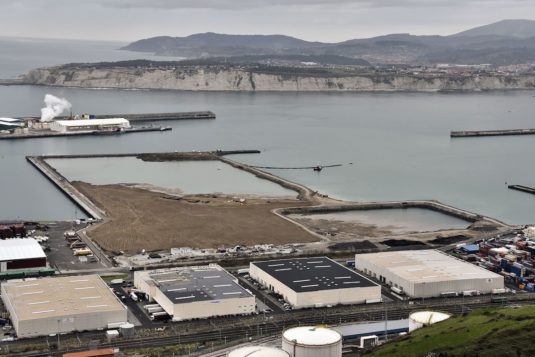 half of the 600,000 m² of the completed Central Pier. The project also includes the stabilisation works on the old Punta Lucero quarry.
Filling in Udondo Basin
The project to fill in Udondo Basin at Erandio will create a new 22,700m² esplanade with a view to gaining new spaces for industrial activities with dock accesses. The verification for readiness document was signed this week for 2.7 million euros, meaning the works can now commence.