The Port of Bilbao has always enjoyed good relations with the Left Bank of the River, an industrial and working class zone, where as many people live as in Bilbao itself, and which since the last industrial crisis has been undergoing complete change, while maintaining its distinctive character.
Its skyline is still adorned with shipbuilders' cranes, but in parallel, promenades, green zones, sports and cultural facilities now mark out the new more natural, comfortable and modern Left Bank. Latest generation edifices, such as the Bilbao Exhibition Centre stand hand-in-hand with the industrial icons of the old River.
The symbiosis between the Port and the Left Bank is underlined by the following:
The people of Zierbena wanted to continue enjoying the sea, so the Port Authority satisfied their aspirations by building a new harbour and financing the cleaning up of the area. As a result, the town is now one of the favourite leisure spots on the Left Bank.
Portugalete: Building a promenade
The Port Authority built the section of the promenade between the Fishing Port and the Portugalete Nautical School. This project is in line with the actions resulting from the Declaration of Environmental Impact of the Port Extension and supposed the demolition of the CLH facilities between Santurtzi and Zierbena.
Local Railway station at Santurtzi:
By moving the local railway station outside the town centre with the cooperation of the Port Authority, Santurtzi has gained 20,000m ² of new lands for the use of the town.
Santurtzi-Zierbena Promenade
The Port Authority also carried out the development works for the linear park parallel to the N-639 road that joins Santurtzi and Zierbena.
The sheeting of the 487-metre stretch of the dock between the boundary of Sestao and the Casa del Mar at Portugalete was also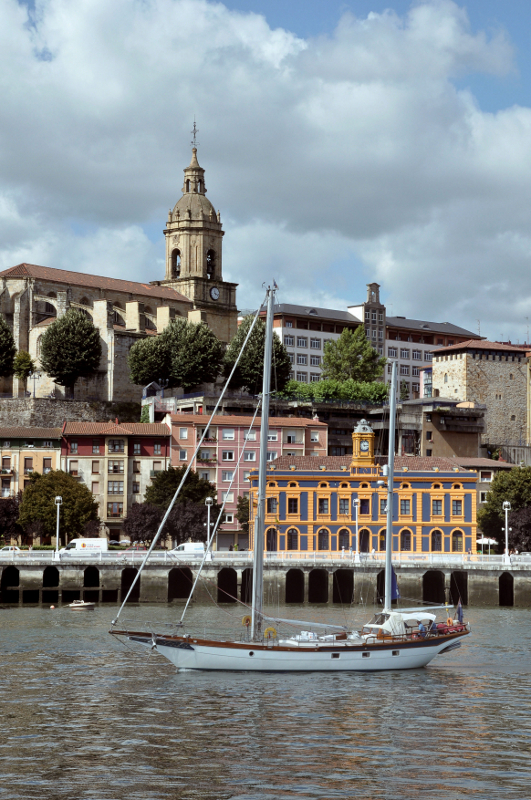 promoted by the Port Authority.
 Municipal Swimming Pools and La Benedicta Promenade
The Port Authority of Bilbao granted a concession to occupy a surface area of 14,828 m².
The "Portu" Basin is located next to the promenade along the Nervion bank, one of the green areas the zone of the River Galindo has recuperated. The Basin had been used as a port area before being regenerated in collaboration with the Port Authority.
The regeneration of the high stretch of the River Ibaizabal and its tributaries Cadagua, Galindo, Udondo and Asua has been carried out thanks to the Port Authority.