Since 1993, the port has also had a Border Control Post, which is still one of the most advanced among Spanish ports. It is a high-capacity facility, operational 24 hours a day with 16 lorry loading bays. The port provides the following services: a Border Control Post (BCP), an unloading port, Designated Points of Entry (DPE), DPE/DPI (Designated Points of Import, points for the control of food products from certain third countries), radioactivity monitoring, Authorised Customs Areas (ACA) and FPI (First Points of Introduction).
Situated between the old Santurtzi Breakwater and the CSP Iberian container facilities on Dock A-1, it occupies 3,800 square metres of built surfaces subdivided into two zones. The first, with an area of 1,350 square metres, is dedicated to offices, while the second 1,900 is equipped with the most advanced industrial cold technology, thermal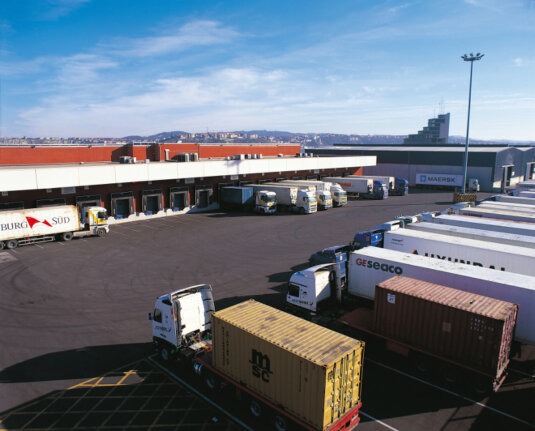 isolation systems and resistant and easy-to-clean materials.
The post has 16 unloading bays and with the Coordination of container positioning at Border Control Post (BCP) Service e-puertobilbao provides a medium for processing the coordination of inspections at the Border Control Post.
Features of the Port of Bilbao BIP (Data sheet):
Products for human consumption
Origin animal
Origin vegetal
Loading docks
6
3
Operations area (m2)
294
146,5
Room inspection (m2)
23,25
23,15
Store ambient temperature
Vol. (m3)
208,4
Vol.:

163,71 m3

Sup.:

33,3 m2

Sup. (m2)
46,3
Cold storage (0º)
Vol. (m3)
220
Sup. (m2)
49
Cold storage (-18º)
Vol. (m3)
649,34
163,71
Sup. (m2)
144,3
36,38
Products for nonhuman consumption
Origin animal
Origin vegetal
Loading docks
4
3
Operations area (m2)
211,51
145,58
Room inspection (m2)
23,25
23,25
Store ambient temperature
Vol. (m3)
206,4
203,89
Sup. (m2)
45,77
45,3
Cold storage (0º)
Vol. (m3)
220,54
164,83
Sup. (m2)
49
36,63
Cold storage (-18º)
Vol. (m3)
219,42
Sup. (m2)
48,76