A modern, dynamic and bright building
The station has been conceived as a great rectangular glass container bearing in mind the differentiation between passenger and luggage flows with independent lanes and stairways. It is 15 metres high with 3,200m² of useable surfaces and consists of two main floors with a mezzanine in between.
The hall and tourist information are on the lower floor where embarking passenger reception and check-in take place; there is also ample space for disembarking passenger luggage collection. The mezzanine accommodates the VIP lounge and offices, while the waiting area, embarking and disembarking passenger control area and disembarking area are on the first floor.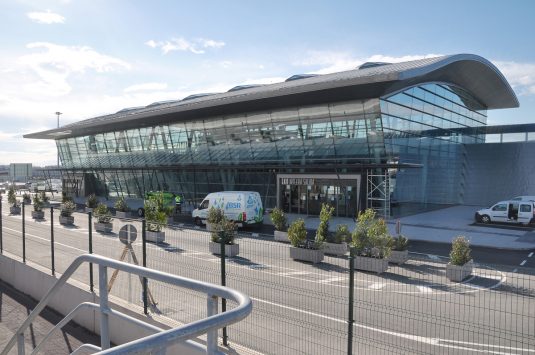 In addition, there is a movable gangway 169 metres long next to the building for passenger access to vessel embarkation/disembarkation.
Direct vessel access
The station opens out towards the vessels, thus facilitating embarking and disembarking movements, and guaranteeing passenger comfort. Passengers access the vessel directly, and safely, without having to walk along the pier, thanks to the above-mentioned movable gangway. In addition, this infrastructure, adapts to the height of the embarkation doors of any vessel, independently of size, and enables access to persons with reduced mobility.
Luggage and ship supplies movements, take place at ground level, next to the berthing area through a zone completely free of passenger movements.