Asier Atutxa, the chairman of the Port Authority of Bilbao, presented Unai Rementería, Assistant to the President of, and Spokesperson for the Territorial Council of Biscay, 400 firefighting outfits which the Council's Firefighting and Salvage Service (SEIS in Spanish) personnel will use from now on.
The outfits consist of ochre pants and jackets made of PBI material which is used by other professionals such as NASA astronauts and New York firefighters. The Port Authority has made an outlay of some 416,000 euros in acquiring this protective clothing.
This contribution is the fruit of the collaboration agreement between the Territorial Council and the Port Authority of Bilbao regarding the prevention and assessment of, and intervention in fires and other potential disasters in the Port of Bilbao, which has been in force since 1996. In return for the services offered by the Territorial Council, the Port Authority provides the SEIS with material means as well as contributing to its specific training.
Throughout this time, the Port has made other contributions such as:
An adapted container dedicated to chemical emergencies
A fire truck crane that transports a flameproof forklift, 2 submersible pumps and a generating set.
A light fire engine with rapid intervention chemical emergency equipment.
A 2-kilometre long mobile container with a water line
A Rolltrailer for gathering leaks from dangerous goods by container.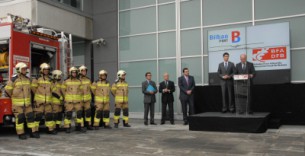 By the end of the present agreement in 2016 the Port Authority, a pioneer in signing this type of agreement, will have invested a total of 3,100,000 euros in the SEIS since 1996.
In return, the Territorial Council integrates firefighting staff as an intervention group in the Port of Bilbao as set out in the Port's own self-protection plan. In addition, a small squad of firefighters, trained by three SEIS professionals, is present as a preventive measure whenever goods considered especially dangerous by the Port Authority, are handled. In numerical terms, this means that firefighters are physically present 800 hours a year on preventive duties. During the present agreement, the SEIS has carried out 605 calls in the Port of Bilbao, with the preventive squads' 589 (97% of all) interventions outstanding.
Likewise, as members of the emergency response structure of the Port of Bilbao, the firefighters train all Port Authority personnel as well as tug-service staff in the fight against fires.