The Bilbao Port and River Foundation, constituted with a view to promoting and developing plans and actions of general interest, has approved its Plan of Action for this year and the projects it will support and subsidise.
At present, the Foundation comprises representatives from the Port Authority of Bilbao and from nine riverside towns – Barakaldo, Bilbao, Erandio, Getxo, Leioa, Portugalete, Santurtzi, Sestao and Zierbena.
The foundation members have proposed the following projects for subsidies:
In Barakaldo: guided historical and environmental routes to learn about the industrial past and present of the River and the town itself. This project is part of the Ezagutu Barakaldo scheme that is promoted by the Town Council and the Autonomous Basque Government's Department of Education and includes a boat trip down the River taking in industrial Barakaldo from the mouth of the Kadagua River to the mouth of the Nervión in Abra Bay.

In Bilbao: practice of Stand Up Paddle (SUP), with the creation of a SUP school by Bwaters Kirol Taldea; in addition, rowing will be introduced and developed with the setting up of a school for beginners by the Deusto Rowing Club. These two offers are aimed at promoting and bringing more life to the River of Bilbao through the practice of two ideal sporting activities there.

In Erandio: free canoe hire offered by RKAbentura at Erandio pier.

In Getxo: venue for the Spanish Laser Radial Championship organised by the Real Club Marítimo of the Abra-Real Sporting Club as well as the Bandera de Areeta Regatta and Liga ARC2 boat race organized by the Raspas del Embarcadero Rowing Club.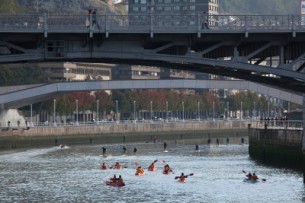 Leioa: dissemination of the cultural heritage value of the Udondo Bridge and what can be seen of it; information and formation via the social networks, the cultural centre, town magazine, Council website, information board and educational workbook for schools.

Portugalete: venue for the XXXIII Bandera Noble Villa de Portugalete Regatta as part of the San Miguel League and organized by San Nicolás Rowing Club.

Santurtzi: installation of a pier for tourist craft in the Santurtzi basin.

Sestao: venue for VI Bandera Arnbilamp Regatta, one of the San Miguel League trials and organized by the Association of Boating Clubs in collaboration with the Kaiku Rowing Club.

Zierbena: free introductory and higher courses in rowing in collaboration with Zierbena AE; submarine baptism in collaboration with the Zierbena "ltxas Dive" diving club in addition to cultural activities and fishing, flora and fauna, photography and history seminars and workshops.