Port-rail traffic continues to be on the rise and is becoming more prominent year by year. Throughout 2018, 2 million tonnes entered or departed the Port facilities by rail. 19% of general cargo uses this mode of transport while the figures rises to 20% for container traffic.
There were 4,987 trains in all – 10.5% up on the previous year.
Interesting links:
NEW RAIL SERVICES
Servicios Intermodales Bilbaoport (SIBPort) is a company whose aim is to transport goods by rail with the Port of Bilbao as origin or destination. It offers rail links with the logistics areas of Madrid, Noain, in Navarre, Jundiz, in Alava and PLAZA, in Zaragoza.
This latest initiative means that shippers now have at their disposal weekly rail services from the Port of Bilbao to Vitoria, Burgos, Madrid, Guadalajara, Seville, Zaragoza, Navarre, Barcelona, Castellon, Valencia and Murcia.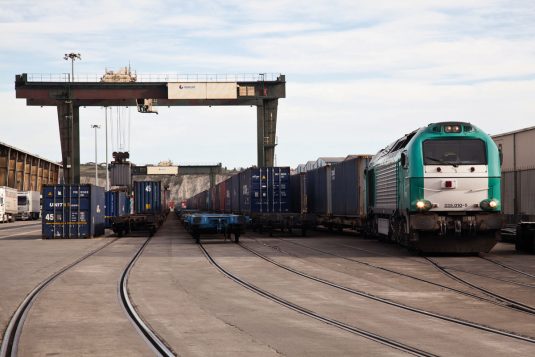 Rail Connections