Following three years of work, in which over 130 million Euros has been invested, by the Company Bahía de Bizkaia Gas (BBG) – located in the industrial area of the Port of Bilbao – the construction and commissioning of the third liquefied natural gas (LNG) tank has been completed, the tank having a total storage capacity of 450,000 m3. This expansion consolidates the strategic position of the Basque Country, and in turn, the Port of Bilbao, as the main liquefied natural gas gateway for the Atlantic Arc and is a commitment to its future, thanks to increased management capacity, security of supply and new loading services for LNG (Methane) tankers.
With this infrastructure, BBG can cater to the unloading of large LNG (Methane) tankers, capable of carrying up to 265,000 cubic metres. It likewise enables the entry into a new business niche, that of gas storage, not for subsequent domestic consumption but for reloading the gas into other ships which is transported to any other location where it is required.
The BBG liquefied natural gas storage and regasification plant is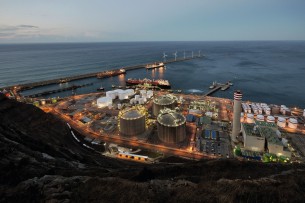 one of the most ambitious and largest energy projects undertaken and implemented in the recent history of the Basque Country. Commencing operations in 2003. BBG is owned by the Basque Government through the EVE (Ente Vasco de la Energía) ("Basque Energy Board"), having a 30% stakeholding; Enagás, holding 40%, and the REEF German investment fund holding 30%.