The Port of Bilbao will be exhibited and presented at the Fruit Logística trade fair, which is to be held in Berlin from 4-6 February, as the best connected Atlantic port for the distribution of fruit, undertaken hand in hand through Mercabilbao, the largest perishable food distribution centre of the northern Iberian Peninsula.
The collaboration with Mercabilbao is part of the commercial policy of the Port Authority of Bilbao which, in recent years, has made a major commitment to increasing the influx of fruit and vegetables. In 2014, this traffic grew by 2.5%.
The Port and Mercabilbao will be disclosing, under the trade name Basque Country Logistic, the competitive advantages of the Basque Country for this sector, with a particular emphasis on infrastructure and the number of short sea shipping services, which make Bilbao the best connected Atlantic port for the distribution of fruit and vegetables to Northern Europe and the Iberian peninsula itself.
The broad offer and frequency of services with the main European ports make Bilbao a natural starting point for Spanish exports to Germany, France, the United Kingdom, the Netherlands, Belgium or Scandinavia. In this regard, in addition to the lo-lo services for containers, it has ro-ro services for containers and freight trucks.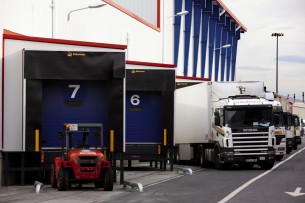 The maritime connections are complemented by fast processing and the intermodal railway services. Noteworthy is the railway service to Murcia, with access via Nonduermas. This connection offers a regular refrigerated train service, which in 2014 grew by 6.5%.
Likewise, to be disclosed will be the offer for the entry of fruits and vegetables from South America and Africa, for which the Port of Bilbao has a border inspection post (BIP), and in whose laboratories of which all sanitary controls are carried out in a coordinated manner with the inspection bodies. Together with the BIP, among other facilities, the Port of Bilbao has, a perishable goods terminal with a capacity of 25,000 cubic metres, which is the equivalent of 5,000 tonnes of goods.