At 331 m long, the vessel has docked with 1,158 passengers on board, and will coincide in the port with the cruise ship Silver Whisper.
In the space of one week, the Basque Country will welcome seven cruise ships, with a total capacity for around 25,000 people.
One year after its launch, the spectacular cruise ship MSC Virtuosa is making a call at the port of Bilbao. At 331 m long, the MSC Virtuosa is one of the two largest ships in the MSC fleet and one of the most innovative.
The cruise ship docked at the Port Authority's facilities in Getxo at 8 a.m. from Ferrol, with 1,158 passengers on board, mostly British and Portuguese. The ship will later depart at 6 p.m. for the English port of Southampton.
The cruise liner has 2,424 cabins, can accommodate over 6,000 passengers and is amongst the most energy efficient and environmentally friendly of all ships. It is equipped with state-of-the-art technology that reduces sulphur oxide (SOx) emissions by 98% and nitrogen oxide (NOx) emissions by 90%.
Onboard features include the largest shopping area at sea, with 11 boutiques and a 98 m LED dome. In addition, MSC Virtuosa is equipped with a casino, five swimming pools, a water park, a spa with a thermal area, two formula one racing simulators, and basketball, tennis, football and volleyball courts. Furthermore, its 945-seat theatre has an exhibition housing 11 works of art by artists Andy Warhol and Roy Lichtenstein, two of the most influential figures of the Pop Art movement of the 1960s. The ship also boasts a selection of 10 restaurants and 21 bars and, as another curiosity, a futuristic bar manned by the world's first humanoid robotic waiter.
MSC Cruises CEO Fernando Pacheco said: "It is a pleasure for us to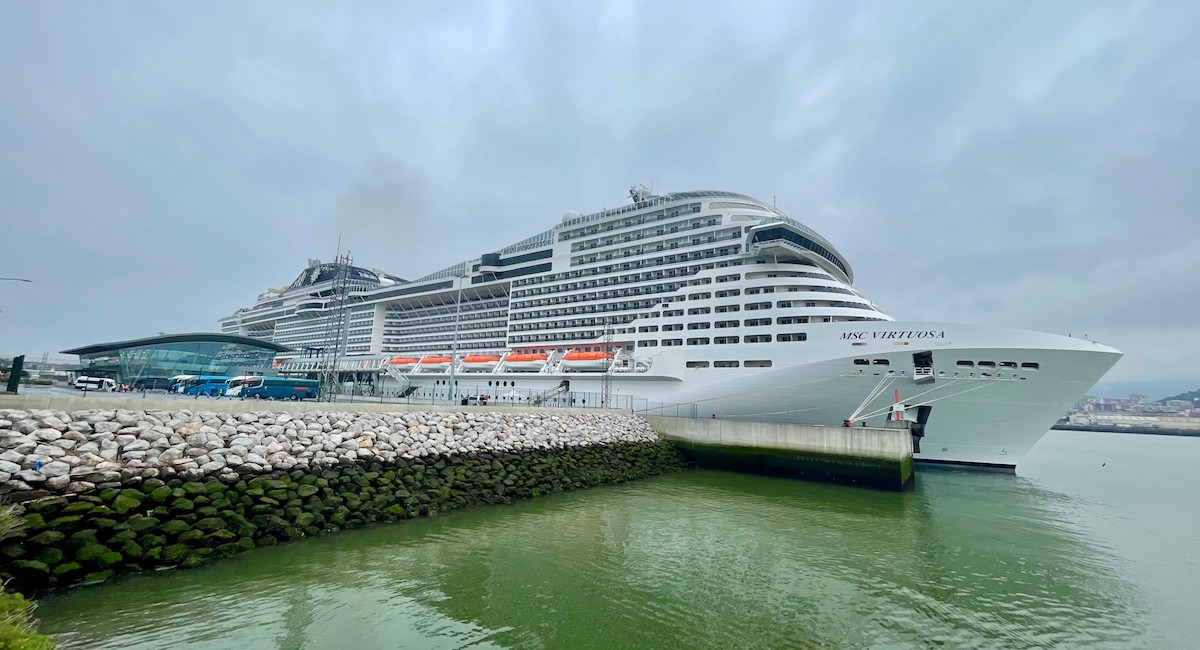 accompany MSC Virtuosa today on her first call in Bilbao. This is a very special destination for national and international travellers, the gateway to a city full of culture and spectacular scenery, with which we hope to continue to strengthen ties and collaborate in the future."
Seven cruise ships in one week
The MSC Virtuosa has coincided today with the arrival of Silversea's Silver Whisper, 190 m long and carrying 261 passengers. The Silver Whisper docked at 12.30 p.m. from A Coruña and will depart at 11 p.m. for Bordeaux.
Yesterday, the 315 m long cruise ship Celebrity Silhouette docked with 2,530 passengers on board, and during the rest of the week, the port of Bilbao will be welcoming another four cruise ships: on Thursday, the 289 m long Emerald Princess, of the Princess fleet; on Saturday, the 306 m long Celebrity Beyond, of the company RCCL; and on Sunday, Ponant's 142 m long L'Austral and TUI Cruises' 280 m long Mein Schiff 4.
Together, these seven cruise ships are equipped to accommodate around 25,000 people.