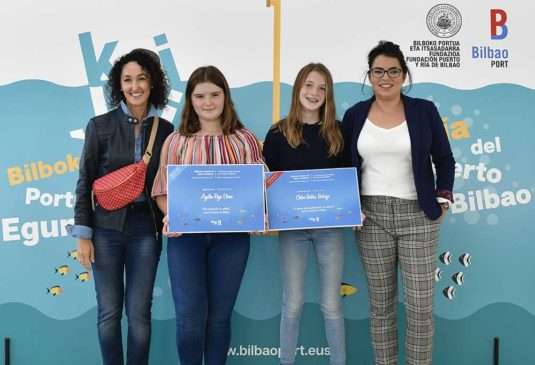 During the Kai-Jai (Day of the Port), the Port Authority of Bilbao presented the awards for the Fourth Tales of the Port of Bilbao Contest. This year, the competition was open to those schoolchildren who took part in the Ezagutu Portua (Know your Port in Basque) programme in the 2018/2019 academic year, and it aims to connect young people with the Port of Bilbao and boost socio-cultural and educational activities.
The first prize was awarded to the story La grúa que quería ser un barco (The crane that wanted to be a boat) by Chloé Robles Rodrigo, from the Lycée Français in Bilbao, and the second to the tale, Sin entrada ni salida, (Neither entry nor exit) by Agathe Riga Llona, also from the Lycée Français in Bilbao.
Although the theme was free, it had to comply with at least one of the following: the action takes place in the Port of Bilbao; some occupation, activity or other elements related with port activity is present; some goods transported through the Port are included or mention is made of an anecdote told or something learnt in the guided tours. The criteria assessed by the jury were originality, richness of the language used, knowledge of the Port of Bilbao and the inclusion of human and social values.
2019/20 Competition
The Port Authority has already called the fifth contest for these awards with the usual specifications. Again, it is aimed at the schoolchildren visiting the Port on the Ezagutu Portua programme in the academic year 2019/2010. Each schoolgirl/boy can take part with one or more tales.
The work can be presented in Basque or Spanish, between two and three sheets long, written on one side only and with a maximum of 30 lines each sheet.
There are two prizes: the first a computer for the winning pupil together with the chance of making a cruise down the river; the second is a tablet along with 300 euros for the corresponding winner's school.