The Kai Jai or Day of the Port will offer numerous free activities dedicated especially to children and their families
There will be a free shuttle bus service between Neguri Metro station and Biscay Suspension Bridge with the Olatua Cruise Terminal
For the fifth year running, Kai-Jai (Day of the Port in Basque) will be held on 8 September. The Port of Bilbao Olatua Cruise Terminal at Getxo will open its gates and become a free amusement theme park where visitors can get first-hand knowledge of the Port's activities and its impact on both the economy and the daily lives of the local population in an entertaining way through ludic activities.
Organised by the Bilbao Port and River Foundation the Kai-Jai – which will take place from 10.30 to 14.30 hours – is a great celebration day for Bilbao Port employees and Port Community companies and invites children of all ages and the public at large to take part.
Outstanding among the many activities are children's theatre performances, a pirate gymkhana, a police dog display, a storyteller, inflatables, a human crane launcher, water bike simulations, games, workshops (face make-up, tying sailing knots, mooring and docking), a Port photo selfie and a photocall to opt for a prize. A stall will be set up where participants will be able to savour talos – typical Basque corn crepes. In parallel, it will be possible to watch port service boats going about their normal tasks.
When entering, participants will receive a passport, which will be stamped as they take part in the different activities. Then at the end of the route, they will receive a prize.
If bad weather prevents the activities from being held outside, they will be transferred to inside the maritime cruise station, where capacity is limited.
The cruise terminal has a free parking area, but the organisation will provide visitors with a free shuttle bus service leaving every half hour, between Neguri Metro station and the Biscay Suspension Bridge.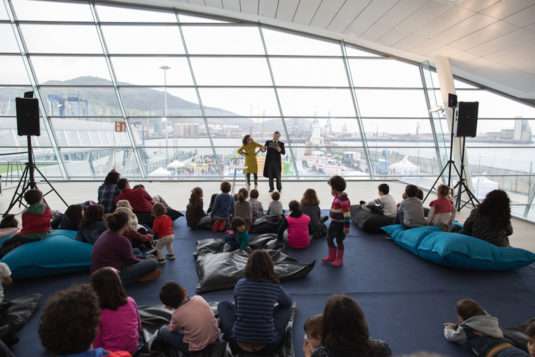 The Bilbao Port and River Foundation
The main aim of the Bilbao Port and River Foundation is to promote and develop a wide range of socio-cultural and recreational plans and actions of general interest that will provide greater knowledge of how the past and present relevance of the Port of Bilbao and the River itself have contributed to the economic and social development and the integration of the riverside towns, as well as encouraging and developing plans and initiatives relative to innovation in the port sector.
The Foundation is constituted by representatives of the Port Authority of Bilbao and the nine riverside towns of Barakaldo, Bilbao, Erandio, Getxo, Leioa, Portugalete, Santurtzi, Sestao and Zierbena; some twenty port activity-related companies and entities also figure among its collaborators.