Today some twenty second- and third-year students from the School of Technical Mining Engineering of the University of Cantabria visited the First Phase of the Central Pier works and also those on the stabilisation of the old Punta Lucero Quarry taking place in the Port of Bilbao.
These students were able to observe the state of the works of the new pier and see the work on the floating breakwater, as well as the lower platforms for its lateral stabilisation.
The Port Authority of Bilbao awarded the 79 million-euro works tender to construct the first phase of the Central Pier and to stabilise the old Punta Lucero Quarry to the temporary consortium formed by Trabajos y Obras (SATO) – Construcciones Adolfo Sobrino, S.A. – Exbasa Obras y Servicios, S.L. – Construcciones Viuda de Sáinz S.A. with a total 39-month completion period. The European Commission will contribute 20% of the tendering costs as part of the Connecting Europe Facility (CEF) Programme. The rest will be provided by the Port Authority's own funds. The works commenced in September and have a 39-month completion period.
Works carried out on the Central Pier
Since March the construction of the 22 concrete caissons to limit the new surface of the Central Pier has been in progress. The structure where the caissons are being constructed is moored a few metres from the future pier and its work will be completed at the end of the year.
So far, three caissons have been sunk, and the fourth will be sunk this week, while the building of the fifth has commenced. Each caisson is 24 metres high, 17 metres wide and 55 metres long, the equivalent of an 8-storey high block of apartments with five 75-square metre dwellings on each floor.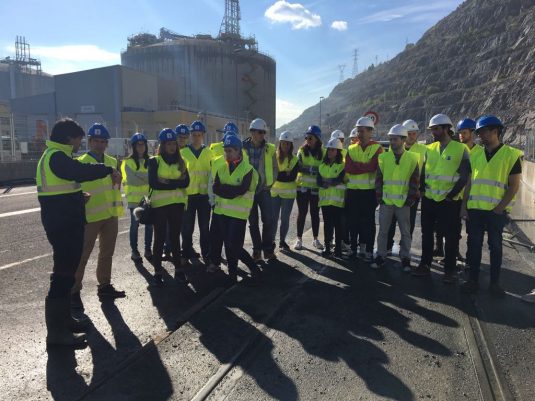 The rubble pouring works are also progressing firmly, being scheduled to finish in May. In September levelling work will be completed for their support.
In the first phase, 334,000 m² of surfaces will be reclaimed from the sea and 1,081metres berthing will be created with 21-metre depths. The surfaces obtained will amount to more than half of the 600,000 m² of the completed pier.
Works on the quarry stabilisation
With regard to the old Punta Lucero quarry stabilisation works, the area is being "combed" from the highest to the lowest levels, by small, controlled blasting and other auxiliary works.
Over the last few months, the auxiliary installations, a 200-metre tunnel and a 170-metre well have been completed, which will enable the clearing up of the material extracted from the stabilisation of the sides from the highest levels to the bottom of the quarry. Since 30 April, opencast blasting has been used.