Overall traffic grew by 4.12% and container traffic by 4.34%
The Port of Bilbao has closed 2014 with a movement of goods, excluding local traffic and supplies, of 30.8 million tonnes, an increase of 4% as compared to the previous year (+ 1.2 million tonnes).
All types of packaging have undergone a positive trend, with record results in container traffic. The number of containers rose by 4% and for the first time is positioned at 630,888 TEUs and the merchandise entering or leaving a container has reached the amount of 6.6 million tonnes (+ 4%). Reefer container (or refrigerated container) traffic, meanwhile, grew by 6.5%.
Likewise, noteworthy is the increased traffic of large parts (design load). In 2014 4,684 parts were loaded and listed as special transports due to their weight, length, width or height. This represents a 36% increase as compared to 2013.
Traffic entering or leaving by rail from the Port's facilities also grew, in this case by case 18%.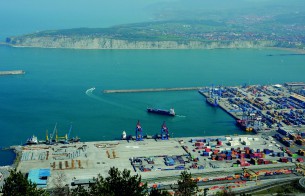 MARKETS
Exports via the Port of Bilbao continue to grow at a decent pace (+ 10%), whilst imports increased slightly (+ 1%).
45% of the traffic still continues to have as its origin or destination Atlantic Europe, this traffic which grew by 3%, followed by the Atlantic coast of the American continent, especially North America. The Central America and Asia Pacific regions are the areas with the fastest growth.
Per country, noteworthy is the United Kingdom traffic, which is in addition to being the country with most growth and further strengthens the peninsular leadership of Bilbao with the British market.
INVERSIONES FINANCE AND INVESTMENTS
Turnover stands at 62.5 million Euros and resources generated reached the amount of 33.1 million Euros.
The Port Authority has made an investment of 47.8 million Euros throughout 2014 and in 2015 that amount will be 64.1 million Euros which is earmarked to works. Among the BPA projects completed throughout 2014 include the construction of the third berth for cruise ships and railway connection and service sidings for the Pancorbo Rail Logistics Terminal located in the municipality of Burgos. In 2015 the first phase of the development of this terminal will commence.
Meanwhile, this year work will continue of the lengthening and extension of the Punta Sollana dyke, the supply and installation of equipment earmarked to the breakwater or containment dykes in the future new wharf of the port and new interior rail access works.