Today, Mr. Unai Rementeria, Deputy for the President's Office of the Territorial Council of Biscay, and Mr. Asier Atutxa, Chairman of the Port Authority of Bilbao, have inaugurated the third Spanish technical conference on emergencies caused by dangerous goods, entitled "Operational Measures for Technological Risks of Chemical Origin", which was organized by both institutions. The talks and work groups will count on the presence of members of the fire brigades from Biscay and from the Spanish Communities of Catalonia, Madrid, Valencia, Murcia and Toledo, as well as experts from Canada and France.
The main aims of the conference are to study and analyse the technological risks and their impact on accidents, establish intervention strategies and procedures, interchange experiences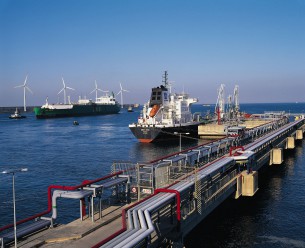 and information, establish recommendations for the civilian population and to learn from accidents.
The sessions are being held in the Port of Bilbao since it is the main logistics centre in the north of the Iberian Peninsula and one of the main Spanish and European ports. Last year Bilbao's throughput was over thirty million tonnes: more than half of these can be considered dangerous goods including nearly all types and classes – inflammable gases and liquids and toxic goods among others.
The Port of Bilbao is aware of the risks such traffic presents and disposes of the different planning and management tools necessary to eliminate or minimize them.
For example, since 1996, the Port Authority has had an agreement with the Territorial Council of Biscay, as both are aware of the concurrence of their competences and the clear inter-relation between them. In this way, by coordinating the actions and contributions of both parties a higher level of competence in port safety is achieved together with better functioning of public services.
Thus, the Territorial Council of Biscay's fire fighting services constitute an intervention group of the Port of Bilbao. In return, the Port Authority provides these services with both intervention equipment and specialised training in port-related activity accidents. The fruit of this agreement is that the Port of Bilbao heads the Spanish Port System in response capacity to possible accidents caused by dangerous goods.