The Dutch Ambassador to Spain, Kees Van Rij, the Consul, Antonio Bereincua, and the Secretary for Foreign Affairs, Patricia Van Bentum, have visited the Port of Bilbao in order to find out about the services it offers and to study new ways in which to collaborate.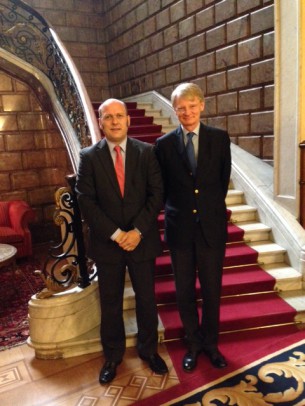 The Netherlands occupy thirteenth place in the trade relations classification with Spain. Bilbao, with 1.5 million tonnes and 38,400 TEUs is the main traffic entry and departure port between both countries. 63% of this traffic is imports. The outstanding goods are iron and steel, followed by scrap, chemical products and the wines, beverages and spirits group.
Besides its direct services with Bilbao, Rotterdam is also an important port of transit for goods whose origin/destination is in markets such as China, Russia, Singapore, Peru, the United States or India – a total of 53,000 TEUs in all.
70% of the traffic from the Port of Bilbao with the Netherlands has the Port of Rotterdam as origin/destination, and this figure reaches 98% for container traffic.
During the visit, it was made clear that land flows between the Port of Bilbao's hinterland and the Dutch ports show great potential for Bilbao- Netherlands maritime services.
In fact, in 2012 4.5 million tonnes were transported by road between Spain and that zone including goods like fruit, vegetables and garden produce, plastic materials, cast iron, iron and steel, beverages and tinned foods.