The Port Authority of Bilbao will take part in the fifth international Fruit Attraction Fair at the "Basque Country Logistics" stand, which will be held at the IFEMA Exhibition Centre, Madrid from 16-18 October. From Stand 9A05B, information will be given about the Port of Bilbao's offer for Spanish fruit and vegetable exports to Europe and for imports from third countries as well as the Port's competitive advantages over road transport for traffic such as frozen vegetables, onions, potatoes, lettuces and citrus fruits.
Multimodal Services
In particular, its ample short sea services offer to the main European ports make it a natural point of departure for Spanish exports to Germany, France, United Kingdom, Netherlands and Scandinavia. Here, the Port not only has Lo-Lo container services, but also three for Ro-Ro container and trucks with loads.
Maritime connections are complemented by multimodal rail services linking Bilbao with Vitoria, Burgos, Madrid, Guadalajara, Seville, Zaragoza, Barcelona, Castellón, Valencia and Murcia. The latter, with departures from Nonduermans offers a regular refrigerated train service.
Terminals
Among other facilities, the Port of Bilbao has a perishable goods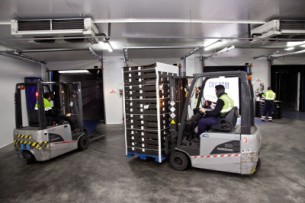 terminal with a 25,000 cubic metre capacity, which is equivalent to 5,000 tonnes of goods. Different warehouse modules enable goods to be kept at temperatures ranging from +12ºC and – 5ºC for cool and refrigerated and up to -22ºC for frozen. Besides, there are private warehouses in the logistics zone as well as 486 plugs for refrigerated containers at the container terminal.
The representatives of the Port Authority of Bilbao will also highlight the speed and convenience of all the services, like the Border Inspection Post (BIP). In the BIP laboratories, situated in the facility itself, all health controls are carried out in coordination with all the inspection organisms.