Students from the Life Rail Intermodal Maritime-Railway Course, which this year will be held from 11 to 13 November, will again visit the Port of Bilbao facilities in order to learn about its operations and the railway services it offers.
They will come on 13 November and it will be the culmination of the eleventh course organized by the Escola Europea for Short Sea Shipping on board the Robla Express Train on its Bilbao-Santander-Bilbao route.
The visit forms part of Life Rail's aims to centralize the different blend of elements necessary to offer railway-port services, such as providing the necessary training and information to those people who are going to decide on and manage logistics chains where rail can be a profitable alternative due to service, cost or time.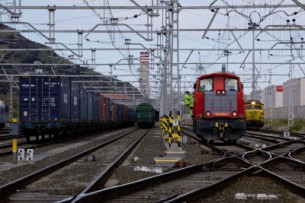 8% of cargo entering or leaving the Port of Bilbao is by rail, and this figure increases to 13% for container traffic. At present, port operators offer weekly services with origin and destination to Vitoria, Burgos, Madrid, Guadalajara, Seville, Zaragoza, Barcelona, Castellón, Valencia and Murcia.