With the approval of new projects in 2017, the Port of Bilbao has reached an occupancy rate of nearly 83%. Private enterprise is investing some 70 million euros in strategic projects.
 Haizea Wind
Haizea Wind is investing 37.4 million euros on industrial equipment and on starting up the plant for the manufacturing and exporting of marine wind towers and other components, which will enable the creation of 250-300 direct employment posts at maximum activity times. The plant will be completed in the first quarter of 2018, and in the second, manufacturing of the first sections will take place.
Noatum Container
In November, Noatum Container Terminal Bilbao, the company operating the container terminal, inaugurated its new automatic truck access system, and is now undertaking the extension of the rail terminal, with both projects amounting to 4 million euros. At the same time, renewal of associated equipment means a further 6 million investment.  0f the 34 million euros committed to investment in the Port of Bilbao for the 2016-2036 period, nearly 10 million are being dedicated to 2016-2018.
  ASK Chemicals.
In November, ASK, a leading international reference company in the chemical sector, inaugurated the first stage of the unification of its business structures in the Port industrial zone. In the first stage, 7 million euros has been invested, while the second stage, which is already under way, will require an investment of nearly 3 million.
 DBA Bilbao Port
The petroleum products operator is fitting out its new plant in the industrial zone, which will come into operation in 2018 at a cost of 2.3 million euros.
 Txeguru Servicios
In the first half year, Txeguru completed the Works on its logistics centre, at a cost of 689,000 euros.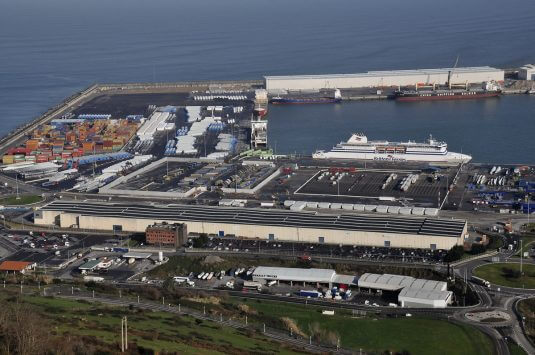 Gamesa Eólica
The company has been licensed 74,000m² of lands destined to the loading, discharge and storage of large goods for the wind energy industry. A series of minor works, such as fencing off the lands, erecting modular offices and assembling a prefabricated pavilion will be carried out.
Progeco
Progeco is building a storage pavilion with eight bays that involves investment of some 873,000 euros.
C.Toro y Betolaza
The company will transfer their general cargo terminal from Bizkaia Dock to Dock A-3, and so they will build a 21,600 m2   warehouse costing 5 million euros.
Cespa Gestión de Residuos 
Cespa will build an industrial waste processing plant on Dock A-1 of the Port Extension. Investment amounts to 1.4 million euros and their activity will commence in 2018.
Saisa Port
On Dock A-1 Saisa Port is also building a warehouse for solid bulks, mainly carbonate and bicarbonate of soda. Investment amounts to 1.3 million euros, and the works have a seven- month completion period.