ITSAS GAS, a company formed by the Basque Energy Entity (the Basque Government Energy Agency), tug boat operators, Remolcadores Ibaizabal and shipowner, Naviera Murueta, has carried out in the Port of Bilbao the first trial run in transferring Liquefied Natural Gas (LNG) ship-to-ship. It is the first time this type of bunkering operation has ever been performed in all the Atlantic Arc and Mediterranean, and it supposes a landmark in the advance towards a cleaner energy supply in the shipping sector, which is highly dependent on petroleum derivatives.
The presentation was attended by the chairperson of the Basque Energy, and Basque Government Minister for Economic Development and Infrastructures, Ms Arantza Tapia, the general director of EVE and chairman of ITSAS GAS, Mr Iñigo Ansola, and the chairman of the Port Authority of Bilbao, Mr Asier Atutxa. In Tapia's words, this new vessel-supply service "positions us as a European reference in sustainable maritime transport" and situates the Basque ports as a reference route for gas refuelling.
This trial, in which approximately 90 m3 of LNG was transferred, was carried out from the refurbished vessel Oizmendi to a cement ship in transit- a client of Molgas Energy – moored in the Port of Bilbao. Thus, a new gas-supply service commences for those vessels operating with natural gas which do not, precisely, have a wide network of refuelling points in European ports.
In this sense, Euskadi (the Basque Autonomous Community), leads three projects to introduce LNG into the maritime sphere, which will receive subsidies from the European Commission Core LNGas Hive Project, in which the Port Authority of Bilbao participates. Specifically, Brussels will contribute 4.85 million euros of the 9.7 million initially invested by ITSAS GAS and their partners in new technologies. This project has three key points which provide for.
The adaptation of the Bahía de Bizkaia Gas regasification company's pier so that small-sized ships can load liquefied gas from these facilities. (Already completed).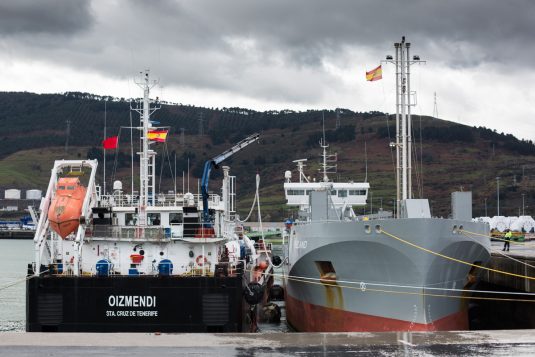 The bringing into operation of an LNG bunker supply vessel capable of supplying vessels boat-to-boat, both in the inner and outer port, which will operate as from today.
Finally, the construction and bringing into operation of a tugboat powered by natural gas, headed by the Ibaizabal Financial Group, and whose engineering design is under way with a view to commencing construction in 2018.
The LNG bunker supply vessel
The Oizmendi, which was previously named Monte Arucas, needed considerable refurbishment to enable it to hold next to its conventional fuel-oil tanks, two large LNG tanks. (LNG is natural gas frozen at -161°C so as it will remain in liquid state, which reduces its volume 600 times, thus facilitating its logistics).
This fuel is being used more and more in the maritime sphere since it offers an economic and environmental alternative to petroleum derivatives. The works were carried out over seven months at shipbuilders Astillero Murueta, and among other equipment, include the installation of two 300 m3 gas tanks for vessel supply. ITSAS GAS has invested 5.5 million euros in the refurbishment.