In 2017, the Port Authority of Bilbao invested 61.5 million euros. The amount planned for 2018 is 49.2 million.
In 2017, the following two projects were completed:
Arasur rail sidings
This investment – which has been made in conjunction with the Autonomous Basque Government and the Territorial Council of Alava – amounts to 5.8 million euros. The TELOF works commenced in June 2016 and concluded at the end of 2017. At present a headshunt with a one million-euro estimate is being built and fitting out is pending tender.
Maritime cruise station and portable gangway
The works on the new Port of Bilbao cruise passenger terminal, situated on Cruise Berth Getxo 3, commenced in spring 2016 and the building was inaugurated on 29 March this year. Total investment was 6 million euros, 4.6 corresponding to the building itself, 1 million to the gangway and 0.4 million to fitting out the surroundings.
Works in progress are as follows:
First Phase of Central Pier– Future Proofing Bilbao and stabilisation works on the old Punta Lucero quarry

The works were adjudicated in June 2016 and will be completed in 2019, at an estimated cost of 74 million euros after the last modification. The European Commission will contribute 20% of this amount under the Connecting Europe Facility (CEF) Programme.
In the first phase, 334,000 m² of land will be reclaimed from the sea and 1,081metres berthing will be created together with 21-metre depths. The surfaces obtained will amount to more than half of the 600,000 m² of the completed Central Pier. The project also includes the stabilisation works on the old Punta Lucero quarry.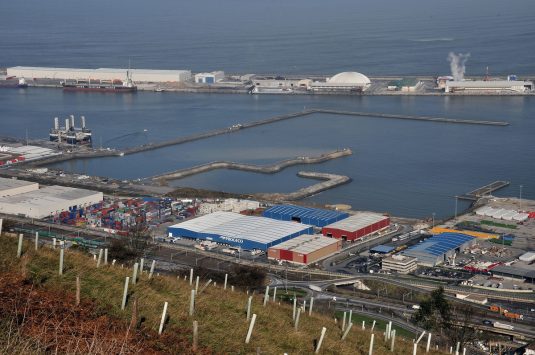 Pavilions for logistics-industrial activities
In May, the building of a pavilion for logistics-industrial activities was awarded for 17.59 million euros and will be licensed to Haizea Wind for the creation of a plant for the manufacturing and exporting of marine wind towers and other components. The works are expected to be completed in the first quarter of the year.
New Ro-Ro ramp
In the last quarter Astilleros Zamakona began constructing what will be Ro-Ro ramp, Nº 8 in the Port. The cost of the award is 2.74 million euros. The completion period is six months.
Filling in Udondo Basin
The project to fill in Udondo Basin at Erandio will create a new 22,700m² esplanade with a view to gaining new spaces for industrial activities with dock accesses. The verification for readiness document was signed this week for 2.7 million euros, meaning the works can now commence.
Installation of more efficient lighting
The Port Authority is investing 1.9 million euros on the supply and installation of efficient lighting using LED technology in the Port's outer zone network. At present, preliminary work is being carried out and shortly, replacement of equipment will commence. It is expected that the project completion in 2018 will bring about approximately 25% saving on lighting.