At the provisional close of the first half year, traffic in the Port of Bilbao showed an 11% increase, which supposed 1.7 million tonnes up on the corresponding period over the previous year, without counting either local traffic or supplies. This is the greatest increase experienced since 2006 and situates traffic at 17.6 million tonnes, with important increases in all classes of packaging.
Half of the growth was produced by liquid bulks (+10%), mainly due to crude oil and petrol. Solid bulks also grew by 18% thanks to the behaviour of products such as sulphates, sand and gravel and petroleum coke.
General cargo, which is what provides most added value for the Port community, grew by 10%. Here, conventional goods increased by 5% because of iron and steel, machinery, machine tools and paper. With regard to both container goods and number of TEUs, there was a 13% growth in which chemical products, building materials and foodstuffs stood out.
In absolute terms, there was most growth in crude oil, petrol, chemical products, minerals, biofuels, fuel-oil, oils and fats and petroleum coke.
Between January and June 1,472 vessels berthed (+86 units), and average ship size increased by 7%.
Regular line passengers amounted to 50,503, which supposes 17% growth, while there were 42,500 cruise tourists, a 13% increase.
Regarding markets, the main importing trading countries were United Kingdom, Chine and the Netherlands, while in exports United Kingdom, Irish Republic and United States stood out.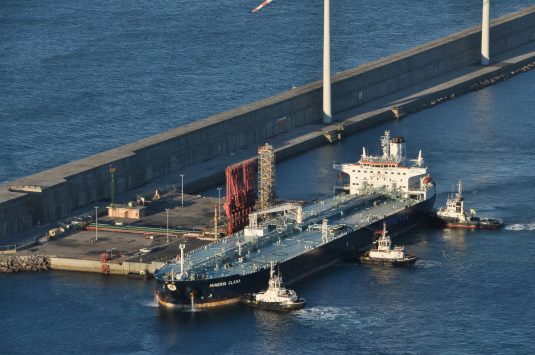 TURNOVER
Turnover stands at 35.4 million euros against 33.2 for the corresponding period last year, representing a 6.6% rise.
In line with the strategy to make Bilbao a more competitive port, from 5 July, the Port Authority began to apply a 10% reduction on Goods Tax (T3) in accordance with what is set out in its Strategic Plan 2018-2022.
The reduction in occupation tax, associated with the new valuation of the lands and waters in the Port of Bilbao service zone, is awaiting approval by Spanish State Ports. This reduction is expected to come into force in the first half of 2019.
PORT AUTHORITY INVESTMENT
In 2018, the Port Authority of Bilbao has planned to invest 49.2 million euros, 18.8 million of which have been carried out until June. In the first half year, two projects were completed.
Pavilion for logistics-industrial activities. In May, the construction works were completed on a 500-metre long pavilion, which has been licensed to Haizea Wind. Investment amounted to 17.59 million euros. Its construction and use form part of the Port Authority's investment plan to boost the setting up of logistics-industrial projects, such as wind power, that bring traffic and create employment, resources and wealth for the territory.
Ro-Ro Ramp. In March, the works on constructing and placing Port Ro-Ro Ramp Nº 8 were completed at a cost of 2.74 million euros. It has a 250-tonne minimum loading capacity.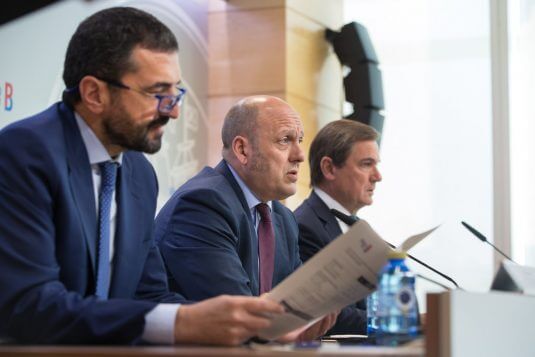 Present works in progress are:

First Phase of Central Pier– Future Proofing Bilbao and stabilising the old Punta Lucero Quarry. The works on the first phase, which will be completed in 2019, will enable 334,000 m² of land to be reclaimed from the sea and the creation of 1,081metres berthing with 21-metre depths. The project also includes the stabilisation works on the old Punta Lucero quarry. The estimated cost of the work is 74 million euros. The European Commission will contribute 20% of this as part of the Connecting Europe Facility (CEF) programme.
Filling in Udondo Basin. The project to fill in Udondo Basin at Erandio will create a new 22,700m² esplanade with a view to gaining new spaces for industrial activities with accesses to loading docks. The works commenced in February at a cost of 2.7 million euros.
Installation of more efficient lighting. The Port Authority is investing 1.9 million euros on the supply and installation of efficient lighting using LED technology in the Port's outer zone service network. At present, preliminary work is being carried out and shortly, replacement of equipment will commence. It is expected that the project completion in 2018 will bring about approximately 25% saving on lighting costs.
Fitting out and headshunt at Arasur. In June, the works for the fitting out of the goods siding at Arasur were contracted for 4.82 million euros with a 10-month completion period. In addition, over this summer, the construction works for a headshunt at the sidings will be completed at a cost of 0.91 million euros.
PRIVATE ENTERPRISE INVESTMENT
Haizea Wind inaugurated in May one of the largest plants for the manufacturing of wind towers and marine offshore facility structures in Europe. Investment amounted to 42.4 million euros.
Noatum Container Terminal Bilbao, the company operating the container terminal, completed in the first quarter the setting up of its automatic gate access system at a cost of 2.6 million euros, and is now carrying out the extension of its rail terminal, in which it will invest 9.4 million between 2018 and 2019.
 DBA Bilbao Port, the petroleum products operator, invested 2.3 million euros in a fuel storage terminal, whose activity began in May.
ASK Chemicals, a company of international reference in the chemicals sector, is carrying out the second stage of the unification of its company structures in the Port of Bilbao's industrial zone, where its production will be centralised. This will need investment of some 5 million euros and the works will be completed in 2019.
Progeco, a company dedicated to storage, distribution and transport, completed the extension of its facilities with a 5000m² pavilion for palletized goods in May, whose investment amounts to some 873,000 euros.
Consignaciones Toro y Betolaza has commenced its activity on Dock A-3 where it is transferring its general cargo terminal. Its new site, which has cost 5 million euros, has a surface area of 110,000 m², 21,600 of which are covered.
Cespa Waste Management is building an industrial waste treatment plant on Dock AZ-1. Cost amounts to 1.4 million euros, and its activity will commence this year.
Saisa Port will also start up a solid bulks warehouse mainly for carbonate and bicarbonate of soda on Dock AZ-1 this year. Investment amounts to 1.3 million euros.