At a meeting organised by the General Secretariat for Overseas Action of the Autonomous Basque Government through its delegation in Madrid, the Port Authority of Bilbao and Mercabilbao met with representatives from thirteen embassies from Latin-American countries, two African and one Asian with a view to attracting more import flows of agro-food products mainly from Latin America and Africa.
At the meeting – attended by representatives from Mexico, Peru, Colombia, South Africa, Ecuador, Brazil, Chile, Argentina, Paraguay, Panama, Honduras, Costa Rica, Nicaragua, United States, Morocco and Pakistan- the interest of fruit production/commercialising companies to visit the Port of Bilbao and Mercabilbao's facilities when they travel to the Fruit Attraction Fair at Madrid to be held 23-25 October was made known. During this visit a working session with the leading fruit import/export companies from Bilbao and its hinterland will be organised.
At the meeting, ample information was provided about the Port's facilities and operations for foodstuffs and fruit in particular. The director of the Port of Bilbao Border Inspection Post was a guest at the working breakfast and she gave details of the facilities for products of non-animal origin for human use and consumption, and of the human and material resources available for carrying out border health controls. In addition, information was given about Mercabilbao's potential as a commercialising centre for fruit and vegetables for both Northern Spain and Southern France.
Collaboration Agreements
The Port of Bilbao is the fourth most important in Spain, with 34.2 million tonnes traffic in all, 6.4 of which is container cargo.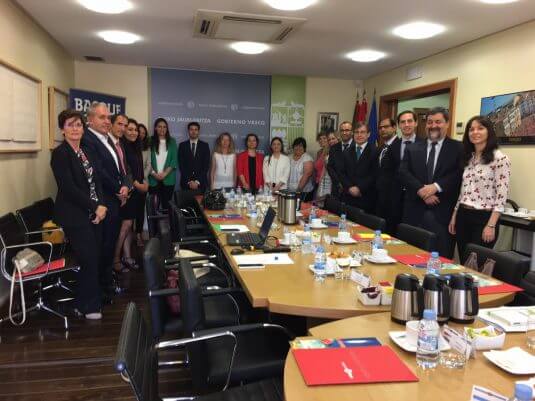 In recent years, the Port has strongly committed itself to increasing import and export flows of fruit and vegetables. In this sense, it collaborates closely with Mercabilbao, the largest distribution centre for perishable goods in the north of the Iberian Peninsula, by taking advantage of synergies in order to attract new shippers and new shipping lines.
Spain imports 3.6 million tonnes of fruit, 28% of which are in a 400-kilometre radius of the Port of Bilbao.