It is a project for the firm Vestas, consisting of towers of more than 100 meters high.
This project has served to homologate the Port of Bilbao plant, which already has all the ISO, EN and OSHAS certificates.
One year after the laying of the first stone of the plant and only two months after its inauguration, Haizea Wind has finished the production of its first sections. This is a project for Vestas of towers over 100 metres high, which has served to homologate the installations.
The Haizea Wind Group plant, which was inaugurated on May 23rd, has managed to comply with the highest quality, health and safety and environmental standards in record time.  As demonstrated by Lloyds' recent recommendation for certification; ISO 9001, ISO 14001, ISO 3834-2, EN 1090-1 and OSHAS18001. These certifications will be officially received in the next few days.
About Haizea
Haizea Wind Group (HWG) is an industrial group with headquarters in Bilbao, dedicated to the manufacture of onshore and offshore wind towers and offshore wind foundations. It has a global and international outlook. Its goal is to become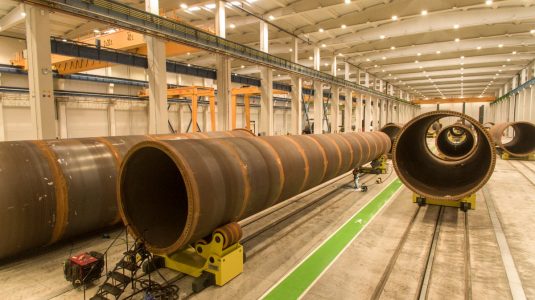 the next global supplier to the wind energy sector by opening new plants in different parts of the world, following the needs of its customers.
About Vestas
Vestas is the only global energy company dedicated exclusively to wind energy, which certainly improves business and reduces costs for its customers.