At the international Seatrade Med fair, being held this year in Barcelona from 16-18 September, the Port Authority of Bilbao will be presenting its third cruise liner berth as well as the Basque Country's tourist attractions.
The Port of Bilbao representatives, who have already arranged meetings with shipowners, will have their own stand (no. 804).
The third berth will come into operation at the end of May. It has a minimum draught of 11/12 metres, an esplanade surface area of 25,300 m2 and a mooring line of 355 metres. The investment made by the Port Authority amounts to 16.5 million euros.
The pier will have a marine station, whose construction project is at the drafting stage. The new infrastructure will be joining the one that went into service in February 2006 and has two berths, a dry land surface area of 6,750 square metres and a quay 355 metres long.
What is more, this season the Port has also made available to the companies a new gangway, which is added to the three already available.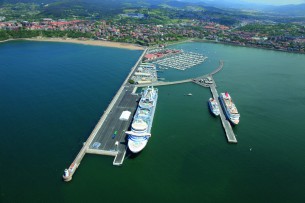 Record year
The Port of Bilbao expects to see a 30% increase in the number of cruise liners this year. That way, the number of dockings will increase from 44 to 57, which signifies a record level of traffic. Today alone, Monday 15th, three cruise liners are docked at the Getxo facilities. Insignia, Oriana and Celebrity Infinity. A total of nearly 5,000 people have arrived on board the three vessels.
In 2014 the following shipping companies have chosen Bilbao: Azamara, C. Isle Du Ponant, Classic Int. Cr.,Crystal Cruises, Fred Olsen, Hapag Lloyd, Holland America, MSC, Oceania, Princess, Pullmantur, P&O, Peter Deilman, Phoenix Reisen, RCCL, Sea Cloud, Silver Cruises and V. Ships.
Bilbao, an up-and-coming city
In July the number of tourists from abroad visiting Bizkaia increased by nearly 2% and the number of travellers from across Spain rose by 1%. In Bilbao, specifically, 40% more tourists have been to the city's tourist information offices owing to the arrival of more cruise passengers and the city's attraction as a short-stay destination. The Guggenheim Museum, the city's icon, has seen its fourth best summer since it was first opened, while the Museum of Fine Arts has achieved its second best record in its one-hundred-year history.
Some of this summer's musical events –like the jazz festival of Getxo and BBK Live of Bilbao– or sports events –the preliminary stage of the basketball world cup at the Bilbao Exhibition Centre– have contributed to the arrival of visitors, but the Basque Country's cultural, gastronomic and countryside offer is already an important attraction in itself. In this respect, the City Council will be requesting that Bilbao submit applications for European Capital of Culture as well as European Capital of Design.