The Chairman of the Port Authority informed them about the commercial and logistic challenges facing this port location of Bizkaia
A delegation of the Committee for the Environment and Spatial Policy of the Parliament of the Basque Autonomous Community visited the facilities the Port of Bilbao has in Santurtzi and Zierbena, and gained first-hand knowledge about the projects set up by the Port Authority of Bilbao to successfully meet new commercial and logistic challenges.
The Chairman of the Port Authority Asier Atutxa provided the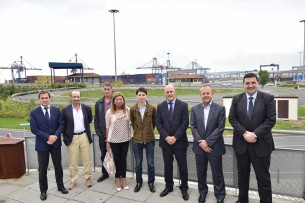 delegation with details of the organisation's Strategic Plan 2013-2017, which has established seven aims: to increase maritime traffic; to preserve and develop new infrastructure; to drive forward excellence and improve competitiveness in the rendering of services by introducing new telematic services; to promote a qualified, cohesive, motivated human team; to optimise the internal management systems in safety/security, protection and the environment; to achieve greater bonding with the milieu; and to maintain the economic and financial sustainability of its projects.
In his report, Atutxa highlighted the fact that insofar as the port is the thermometer of the economy, "we can say with moderate optimism that there has been a change in trend in the traffic since 2013, and that until June of this year there has been a 1.6% increase in the number of tonnes and an 8% increase in exports, while exports remain at a level similar to that of the first half of last year". The Chairman of the Port Authority also stressed that Bilbao is a flexible port committed to boosting the railway. In this respect, he asked the Parliament for their support in urging the Spanish Ministry of Development to make a serious commitment to the development of the southern freight railway link, a key project designed to boost traffic and improve the Port of Bilbao's competitiveness.