The old lighthouse on the cape of Matxitxako, in Bermeo, has been turned into an observatory for watching marine birds and cetaceans as they make their way across the Basque coast.
The new observation area prepared adjoins the lower part of the lighthouse and faces the Bay of Biscay. It is a construction shaped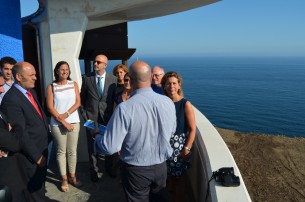 like a plinth of the lighthouse building. The observatory is made up of a gallery encircling the northern half of the lighthouse with four porticos that support the flagstones forming the covered area for visitors and observers.
A protected shelter made of steel has been fitted out in the middle section of the gallery; it has a woodwork system that can be easily opened for observing and monitoring the bird life and the broad variety of marine mammals that inhabit the Basque coast, like dolphins, beaked whales, pilot whales and finbacks.
The observatory is the result of a collaboration agreement among four administrations. The Port Authority of Bilbao, which owns the lighthouse, has granted the corresponding right of use. The building works, which have cost 150,000 euros, have been carried out by the Government of the Basque Autonomous Community; the Provincial Council has repaired the road to the installations. At the same time, these institutions, together with Bermeo Town Council, have undertaken to jointly maintain the surrounding area and guarantee access to the observatory.