The 27th and 28th May will mark new highs in the history of tourism in the Basque Country , since on both days four cruise vessels will berth at the Port of Bilbao's cruise facility at Getxo, bringing between ten and twelve thousand tourists on board. The scheduled vessels are:
Tuesday 27
Bremen, 112 m. long with 200 passengers
Emerald Princess, 290 m. long with 3,080 passengers
Oceana, 261 m. long with 2,150 passengers
Braemar, 195 m. long with 977 passengers (arriving 26th and staying overnight at Getxo)
Wednesday 28
Europa 2, 225 m. long with 516 passengers
Seven Seas Voyager, 207 m. long with 700 passengers
Sea Cloud II, 117 m. long with 90 passengers
Independence of the Seas, 338 m. long with 4,370 passengers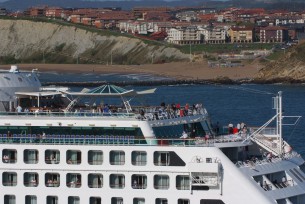 The arrival of four cruise vessels on two consecutive days coincides with the coming into operation of the third cruise berth to be built by the Port Authority of Bilbao at Getxo. This quay has a minimum draft of 11/12 metres, an esplanade area of 25,300m² and a berthing line 355 metres long.
This year, the Port of Bilbao expects a 30% increase in the number of cruise vessels.