The exhibition, housed in six containers, will show the Port's activity and its relationship with the riverside towns
With a view to showing society the history, activity and economic importance of the Port of Bilbao, as well as its relationship with the riverside towns, the Port and River of Bilbao Foundation has inaugurated the Itinerant Exhibition, PortArt, on the esplanade of the River of Bilbao Maritime Museum. This event, inspired by the artistic movement of the late 1950s, is housed inside six 20-foot containers, whose external and external decoration is inspired by the work of pop artists.
The members of the Foundation – the Port Authority of Bilbao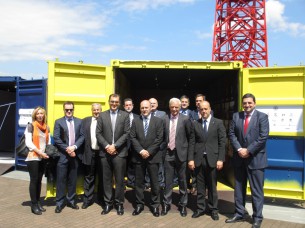 together with the towns of Bilbao, Barakaldo, Erandio, Sestao, Santurtzi, Leioa, Getxo, Portugalete and Zierbena.- are collaborating in organizing the exhibition.
Likewise, the following entities are also cooperating: Amarradores Puerto de Bilbao, Astilleros Zamakona, Berge Marítima Bilbao, Bunge Iberica, E. Erhardt y Cia, El Transbordador de Vizcaya, MacAndrews, Nirint Iberia, Noatum Container Terminal Bilbao, Progeco Bilbao, Remolcadores Ibaizabal, Sacyr Construcción and Transfennica Iberia.
Calendar
The itinerant exhibition will remain five days (from Wednesday to Sunday) in each of the nine riverside towns. Five of the six containers will hold the same works in all the towns, while the sixth will change the themes of its contents in line with the history of the town where it is exhibited.
The timetable will be from 11.30 a.m. to 1.30 p.m. and from 5.00 p.m. to 8.00 p.m. on weekdays and from 12.00 p.m. to 2.00 p.m. and from 5.00 p.m. to 8.00 p.m. on Saturdays and Sundays.
After its debut in Bilbao (27 May – 1 June), it will move to Barakaldo (4 – 8 June), then later to Erandio, (11 – 15); Sestao (18 – 22); Santurtzi, (25 – 29); Leioa, (2 – 6 de July); Getxo, (9 – 13); Portugalete, (16 – 20), and will finish at Zierbena, (23 – 27).