Some 150 Basque company representatives attend, gaining first-hand knowledge of the more innovative projects being carried out by entities such as Iberdrola, the Guggenheim Museum Bilbao, IMQ and the Port Authority of Bilbao.
The President of the Autonomous Basque Community, Iñigo Urkullu, together with the Basque Minister for Employment and Social Policy, Angel Toña and the Port Authority of Bilbao Chairman, Asier Atutxa, inaugurated the one-day congress "Prevent, Protect and Promote Workplace Health. Towards Wellness at Work", jointly organised by the Port Authority of Bilbao and OSALAN (the Basque Institute for Workplace Health and Safety).
Some 150 company representatives, mainly from the area of health and medicine, were present at the congress, which was able to count on the collaboration of members of the Basque Down Syndrome Trust to attend them.
Among others, the most innovative projects for the promotion of workplace health carried out by entities such as the electric utility Iberdrola, the Guggenheim Museum Bilbao, the health insurance company IMQ and the Port Authority were presented.
In the words of the organisers, "we are deeply involved in moving towards a proactive way of understanding health as integrating wellbeing, physical fitness and happiness. The labour sphere should not be ignorant of this new paradigm, and therefore, we must go beyond occupational risk prevention and try to look for the wellbeing of workers and their families. In this congress, health strategies seeking precisely this paradigm will be made known".
Portu Osasuntsua (Health in the Port)
One of the experiences presented at the congress was the project brought into operation by the Port Authority itself which employs 270 people.
After many years dedicated to work risk prevention, with the preventive culture wholly integrated within its organisation together with a management system guaranteeing effective protection against the risks workers are exposed to, it was considered the right time to take a step forward and advance towards HEALTH PROMOTION.
For some time now, the Port Authority has been developing different activities which would nowadays be considered as health promotion, but it was as from 2014 – the year when it signed the Luxembourg Declaration – that the Port Authority consciously committed itself to integrating the basic principles of this agreement into the integrated management of the Port of Bilbao.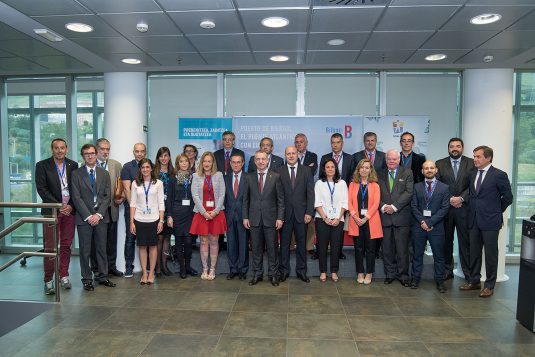 The fruit of this was the ambitious PORTU OSASUNTSUA (Health in the Port in Basque) project integrating the actions, programmes, campaigns and strategies in order to develop a work space to protect, promote and support the total physical, mental, social and cultural wellbeing of Port Authority employees with a view to achieving the following aims:
•    To eliminate work accidents (two consecutive accident-free years).
•    To decrease the sickness rate.
•    To create a healthy work environment.
•    To improve competitiveness
•    To motivate workers.
•    To contribute to improving the community and ultimately to building the country.
As the Port Authority Chairman, Asier Atutxa pointed out: "We are proud of the Portu Osasuntsua project, which has gone down so well with our employees and besides, has also been awarded with, on the one hand, the Gosasun three-star award, promoted by Innobasque, the Basque Agency for Innovation, and on the other, the recognition of the National Institute for Health and Hygiene in the Workplace. In fact, we are the only company in the Basque Country to have been registered in the State 'Healthy Companies Network' due to our good business practices in promoting health."
"All this", he went on, "has encouraged us to hold this congress, hand in hand with OSALAN, the Basque Institute for Health and Safety in the Workplace, so as to inform the companies in our community – whether they are International, European, Spanish or Basque – of the collective movements and innovative projects in health promotion, while at the same time encouraging them to become part of this movement which we find exciting."
It has been possible to follow the congress via streaming on the Port Authority's web page www.bilbaoport.eus