The Port Authority of Bilbao has put out to tender the construction works for the Arasur rail sidings at a price of 7,651,877 euros (excluding V.A.T.). The final date for receiving tenders is 8 February 2016.
This work is the fruit of the agreement signed in March this year by the Autonomous Basque Government, the Territorial Council of Alava and the Port Authority of Bilbao to install a Port of Bilbao operational rail base at this logistics platform in Alava. According to the terms stipulated in this agreement, the Port Authority negotiates and contracts the works, while the three entities will finance them.
On the one hand, this new rail-port connection constitutes a strategic opportunity for the Arasur Logistics Platform and will benefit the inter-connection of the main transport logistics nodes and infrastructures in the Basque Country. On the other, it benefits the Port of Bilbao interests inasmuch as it forms part of a strategic logistics platform, which will contribute to attracting and consolidating port traffic, and by extension, to boosting its competitiveness.
With the new facilities, Alava, and all the Basque Country, are following the development of the European Union, taking advantage of its exceptional geographical location, its multimodal traffic conditions and highly competitive logistics platforms.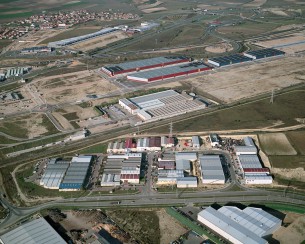 Agreement with ADIF and Talgo
Previous to the tender, the Port Authority endorsed ADIF's authorisation conditions as well as signing an agreement with Talgo allowing the use of its connection with the General Interest Railway Network.
In addition, the purchase of 68,405 m2 of Surface area for 3 million euros was formalised.