For its contribution to the promotion and use of the Basque language
In a ceremony held at the Palacio Europa de Vitoria-Gazteiz, the Port Authority of Bilbao was presented with the Bikain Silver Award. This is the official quality certification granted jointly by Euskalit, the official assessment agency, and the Basque Government for the promotion and use of the Basque language.
This is a voluntary company linguistic certification and assesses four points which have to be approved: linguistic landscape, external communication, internal communication and language policy. Thus the award recognises company behaviour in the use and promotion of Basque both among employees and its visitors, customers, suppliers and other entities.
During the award ceremony, Asier Atutxa, the Port Authority Chairman, underlined the effort made by all its employees and congratulated them "because this certification has been obtained thanks to their implication and especially due to that of the Basque Language Committee, which has been working for years to achieve it, as well as to those who were personally assessed by the Euskalit team."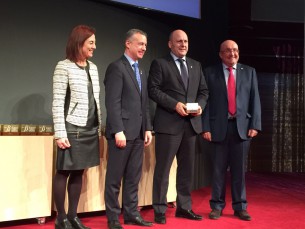 The use of the language involves an important number of people, since nearly 5000 work in or visit the Port of Bilbao on a regular basis. They are all welcomed in Basque graphically at both the entrance and the difference access points, thus contributing to the Port's relation to the Basque Country and its language.