Before a large representation of shipping agents, forwarders, hauliers and members of the port community in general, the Port Authority of Bilbao and Noatum Container Terminal Bilbao presented the plan for new automated gates at the terminal and the complementary telematics solutions to enable operations to work at maximum capacity.
The plan offers the advantages of reductions in waiting times for vehicles entering the Port and the terminals, an increase in safety and security inside the Port area, and providing the Port Authority and the terminals with a system that enables management of road transport influxes and port operations maximisation.
The new gates will become operative in June 2017, the date that has been set out for companies to adapt to the requirements of the new system.
Smooth and Efficient Transport
The basic premise of the plan is that if the Port is to improve its competitiveness, it must prioritise smooth and efficient road transport. Thus, a detailed study was made on how to quicken truck entries and exits both at the terminal and in the Port, with the following needs being identified:
Relocation of the gates and adjusting terminal entry and exit according to anticipated demand.
Gate automation to guarantee optimum management of trucks passing through them.
Obtaining 100% information electronically before truck arrival at Port facilities.
During the presentation, firstly the key technical elements to define the system were explained, such as the introduction of a pre-gate, an OCR portal, the placement and number of gates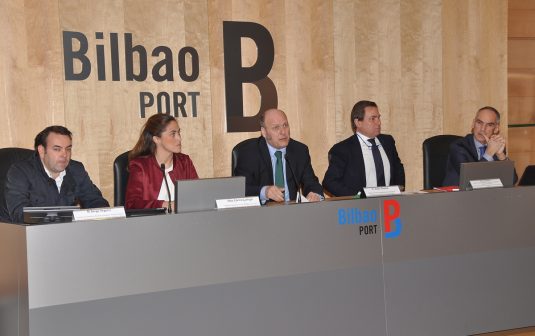 and the configuration and technological solution of the same. Thus, a ten-gate system was defined – six entry, three exit and one reversible.
As from June, trucks entering the Port with their access code will have an exclusive fast lane. The driver will continue without stopping at the OCR portal, and once the automatic gate is reached, the access code will be introduced into a touch screen. The system will return a ticket indicating where the driver should go in order to carry out his task.
Secondly, those present were informed of the updating of the e-puertobilbao telematics platform services in order to generate the access code to be sent to the terminal and to the haulier. The generation of this code implies that both delivery information, or where appropriate, admittance information, as well as that of the corresponding pre-notification, satisfies all the data requirements of the Port Authority and Noatum for automatic gates management.
Finally, came the presentation of the e-puertobilbao mobile App, whose aim is to reach a series of companies, which due to their operations, need to send their pre-notifications from where they are at any given time, and sometimes, this is a short distance from the terminal.