In 2016,traffic in the Port of Bilbao – excluding both local and interior traffic and supplies- amounted to 31.9 million tonnes, which is very similar to last year's figure, but showing a loss of 450,000 tonnes (-1.39%). However, accumulated growth since 2013 is still positive and stands at 10%.
Such is the diversity of its traffic, that the Port of Bilbao was able to lessen the effect of the descent in gas (-523,200 tonnes) and the scarce activity at the ACB iron and steel works (-324,000 tonnes of scrap metal and -310,000 of iron ore), with the increase in other goods such as diesel oil (+288,000 tonnes), cement and clinker (+209,000 tonnes), petroleum coke (+121,000 tonnes), chemical products (+97,000 tonnes) and other petroleum products (+94,000 tonnes).
In addition, Bilbao is still a port specialised in heavy loads cargo, and last year, 4,480 pieces belonging to this category due to their great weight, length, width or height were shipped. This figure supposes a 12% increase over the previous year.
With regard to passenger traffic, there was 15% growth and the final figure stood at 190,626, which can be broken down into 104,028 (+10%) passengers.
Inward and outward bound rail traffic continued its growth tendency of recent years and went up by 20%. Dry cargo, which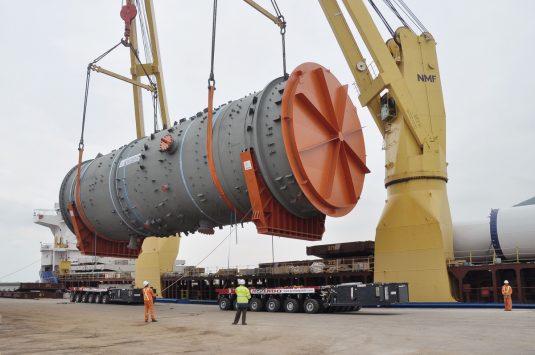 uses this transport mode, accounts for 19% of the traffic, which in the case of container traffic increases to 21% on the United Kingdom ferry with its 129 calls, and 86,598 (+23%) tourists proceeding from the 51 cruise vessel calls.
62% of overseas traffic corresponds to imports, which fell by 4%, and 36% to exports, which grew by 1%.
The European Atlantic, which represents almost half of the Port's traffic, is also the geographical zone with highest growth (+11%).The United Kingdom is still the main market, closely followed by Russia. Main growth was with Russia, Mexico, France, Saudi Arabia and Morocco.