The Port Authority of Bilbao took part as an exhibitor in the VII AREX Zaragoza International Congress, which is a date of reference on the Aragon business calendar held in Zaragoza on 1st and 2nd February.
The event was organised by the public company Aragón Exterior (Arex), dependent on the Department of Economy, Industry and Employment of the Aragon Government, in collaboration with the Spanish Institute for Overseas Trade (ICEX), the Chamber of Commerce of Aragon and the Aragon branch of the Spanish Confederation of Business Organisations (CEOE).
The Port Authority representatives informed of the infrastructures the Port of Bilbao offers shippers together with the maritime services connecting them with 859 ports worldwide.
Aragon moves over 5 million tonnes by road, mainly with Germany, United Kingdom, the Netherlands, Poland and Belgium, countries that all directly connected to the Port of Bilbao. In fact, Bilbao is the Spanish port with most direct services for all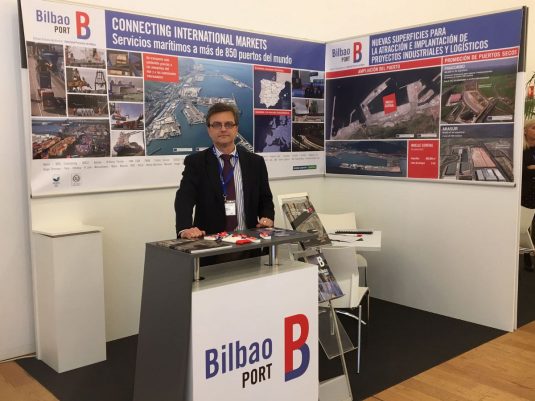 types of cargo with the North of Europe, which supposes a competitive advantage with regard to road transport in terms of transit, safety and sustainability.
At the same time, Bilbao is making important investments to improve automation in its accesses in order to speed up truck operations, and also to offer new telematics solutions.