Asier Atutxa, the chairman of the Port Authority of Bilbao, presented Ibone Bengoetxea, the Deputy for Public Administration and Institutional Relations of the Territorial Council of Biscay with a new, latest generation fire engine for the use of the Council's Firefighting and Salvage Service. This donation is the fruit of the collaboration agreement between both entities.
The fire engine is a special vehicle, whose technical name is heavy urban pump, and whose main features include the use of a new material EcoPolyFire in the construction of the body due to its great resistance, high mechanical and chemical characteristics and its respect for the environment. In addition, it has one of the few Scania double cabins in Spain, exclusively designed for fire engines.
Collaboration agreement
This donation forms part of the collaboration agreement between the Port Authority and the Territorial Council, which has been in force since 1996, and whereby the Council's Fire Services are constituted as a "Port of Bilbao Intervention Group" as set out in the Port's self-protection plan. In return for the Council's firefighting services the Port Authority is committed to providing the technical means as well as the necessary training regarding their intervention in possible accidents in the Port of Bilbao.
As a result of this agreement, the Port of Bilbao is at the head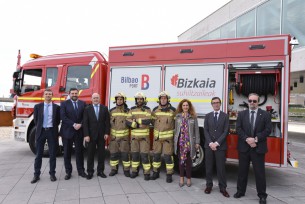 of the Spanish Port System in terms of its capacity to respond to possible disasters originating from dangerous goods.
The present agreement, signed in 2011, is valid for five years. Throughout this time, the Port, besides purchasing the fire engine at a cost of 375,000 euros, has provided firefighters with 440 outfits made of PBI material and used by other professionals such as NASA astronauts and New York firefighters. The Port Authority made an outlay of 450,000 euros on this protective clothing. Likewise, in previous years, a Rolltrailer for gathering leaks from dangerous goods and material for intervention from heights have been acquired.
Over the last four years the Port Authority has made investments totalling 1,081,322 euros on equipment for the Council's Firefighting and Salvage Service.