The Algerian Company CNAN Nord, represented by Transcoma Shipping, made a new call at the Port of Bilbao on the way to consolidating a regular connection for general and container traffic from the North of Spain to Algeria and other Mediterranean countries such as Morocco, Tunisia, Egypt and Turkey as well as to the North of Europe and the United States.
The new call was made by the multi-purpose vessel Saoura, which was loaded by stevedores Servicios Logísticos Portuarios (SLP), equipped with two cranes 200 MT to carry out a heavy-lift cargo of 200 tonnes destined for the Algerian port of Annaba.
Loading operations took place at Reina Victoria Dock and were coordinated by Bilbao Forwarding Agents Operinter Traimer.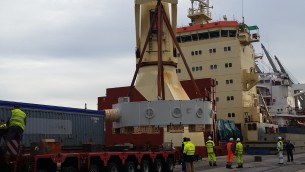 The opening of a regular connection with Algeria has strategic importance given the positive tendency in the development of the Algerian economy. General cargo between Bilbao and Algeria increased 35% between January and November this year with regards to the corresponding period last year.