Between January and June nearly 17.6 million tonnes were handled, only 1% down on corresponding period last year; growth would be above 7% without technical stops carried out by Petronor to improve their facilities.
Forecasts indicate year will close with 2% growth.
Turnover to June stood at 9 million euros and in 2019 the Port Authority will invest 60.4 million with the Central Pier as its main project.
Between January and June the Port of Bilbao handled nearly 17.6 million tonnes, excluding local traffic and supplies, which was slightly down by 1% regarding the same period last year  – 200,000 tonnes less.
This decrease was mainly due to the two technical stops at the Petronor oil refinery for facilities improvement and renovation at a cost of 101 million euros. This meant some 1.6 million tonnes less traffic, and harmed the growth the Port has been experiencing in recent years. Had it not been for these particular circumstances, traffic would grow over 7%.
Bearing these circumstances in mind together with estimated economic growth, the Port Authority of Bilbao expects traffic growth to reach some 2% by the end of the year.
In-transit goods were virtually non-existent in total traffic and trade with other Spanish ports is 6%, so almost 94% of Port of Bilbao traffic is imported and exported.
Liquid bulks in general were only down by 135,000 tonnes. The greater falls, due to the stop in the refinery unit, were in crude oil and heavy fuel, which suppose over a million tonnes. Among growths, BBG gas stands out, whose 950,000 tonnes and 14 vessels more than double last year's movements. Growths in gas-oil and biofuels are also worthy of mention.
Solid bulks, with 23,000 tonnes more, presented a 1% positive result. Imports of soy beans and exports of sulphates and sand and gravel stood out inside this growth.
Breakbulk went down by 5.4% due to the fall in iron and steel products. Wheeled traffic, however, increased by 5% to over 434,000 tonnes, thanks to the increase in Brittany Ferries and Finnlines traffic.
Finally, general container traffic increased slightly (0.3%), maintaining last year's levels. Container products with greatest increases were machinery, tools and spare parts. In TEUs full containers increased by 1.6%, while empty ones went down 5%.
In absolute terms, and without separation by packing, traffic with most growth was in gas, gas-oil and soy beans; those with the greatest decreases were iron and steel, petrol, crude oil and fuel-oil.
TURNOVER
Turnover stood at 34.9 million euros compared with 35.4 for the same period last year, thus showing a 1.6% decrease. This fall is in line with the tariff-reduction strategy to make Bilbao a more competitive port in accordance with what is set out in the 2018-2022 Strategic Plan.
So halfway through 2018, the Port Authority began to apply a 10% reduction in Cargo Tariff T3, which has meant a 2.5-million euro saving for the Port's clients in the last year.  
In like fashion, last May the reduction in the occupancy tax after the new valuation of the lands and waters in the Port of Bilbao's service zone came into force and will mean Port licensees will save 1.9 million euros annually.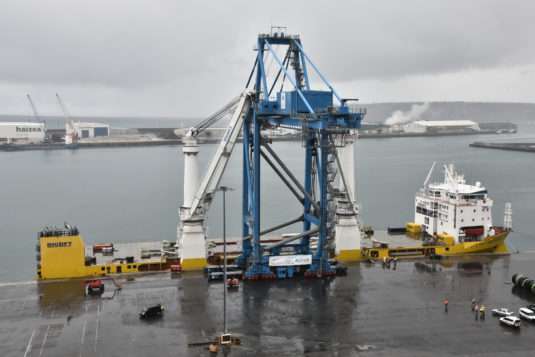 PORT AUTHORITY INVESTMENT
This year the Port Authority will invest 60.4 million euros. The main works are:
First Phase of Central Pier– Future Proofing Bilbao and stabilisation works on the old Punta Lucero quarry. Expected completion date: September/October 2019. (74.1 million euros. The European Commission is contributing 20% as part of the Connecting Europe Facility).
Energy efficiency: Completed, pending delivery (1.6 million euros. 50% financed by EC as part of its Regional Development programme, ERDF)
Fitting out Arasur:

Completed, (4.8 million euros).

Filling in Udondo Basin in Erandio: Completed, (2.7 million euros).
PRIVATE SECTOR INVESTMENT
The most significant private investment was made by
Petronor, the largest refinery in Spain that receives and processes crude oil in the Port of Bilbao, made two technical stops to renovate, revise and carry out improvements in order to be more efficient. Investment: 101 million euros.
CSP Iberian Bilbao Terminal: In June the container terminal licence holder, belonging to the COSCO SHIPPING Ports (Spain) Terminals S.L.U (CSP Spain) Group, inaugurated the rail terminal extension. Investment: 10 million euros.
Consignaciones Toro y Betolaza fitted out their new general cargo terminal. Investment: 5 million euros.
ASK Chemicals, a company of international reference in the chemicals sector, is carrying out the second stage of the unification of its company structures in the Port of Bilbao's industrial zone. Investment: 5 million euros.
Cespa Waste Management is building an industrial waste treatment plant. Investment: 1.4million euros.
Saisa Port is constructing a solid bulks warehouse. Investment: 1.3 million euros.