It will also be informing about its services for entries from South America and Africa
The Port Authority of Bilbao is participating this year, too, in the international Fruit Attraction fair, the major event of the fruit and vegetable sector taking place at IFEMA Madrid from 15 to 17 October.
In the presence of the biggest representation of international fruit and vegetable production, the Port of Bilbao will be informing from stand 5D07C (pavilion 5) about the competitive advantages of this port location thanks to the large number of highly consolidated short shipping services which make it the best connected Atlantic port in terms of fruit and vegetable distribution to northern Europe and the Iberian peninsula itself.
The broad offer and frequency of services with the main European ports make Bilbao a natural outlet for Spanish exports to Germany, France, the UK, the Netherlands, Belgium and Scandinavia. In this respect, in addition to the lo-lo services for containers, it has three ro-ro services for containers and freight trucks.
The sea connections are complemented by fast processing and intermodal railway services with Vitoria, Burgos, Madrid, Guadalajara, Seville, Zaragoza, Navarre, Barcelona, Castellón, Valencia and Murcia. Murcia, with an access via Nonduermas, offers a scheduled refrigerated train service.
South America and Africa
The Port Authority will also be informing about the offer for the entry of fruit and vegetables from South America and Africa for which it has a Border Inspection Post (BIP), in the
laboratories of which all the health controls are carried out in a coordinated way with the inspection bodies.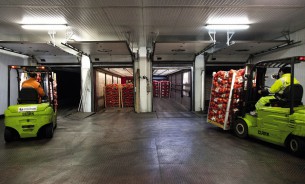 Together with the BIP, among the other facilities the Port of Bilbao has is a terminal for perishable goods with a capacity of 25,000 cubic metres, which is the equivalent of 5,000 tonnes of goods. A range of warehousing modules enables goods to be kept at temperatures of between +12º and -5º C in cool/refrigerated storage and up to -22º C in frozen storage. It also has private warehouses in the logistics zone and 486 power points for refrigerated containers at the container terminal.
Frozen vegetables, onion, garlic and leek consignments, potatoes, citrus fruits and lettuces feature among the goods that are transported through this port location.