During the summer, the Port Authority of Bilbao will put out to tender the works for the construction of the maritime terminal on the third cruise berth at Getxo for 5 million euros with a one-year completion period. Bidders can improve on these figures.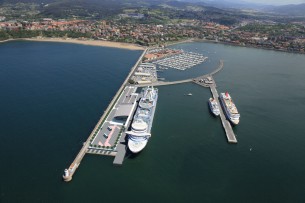 Functionality, safety and security are the keys to the terminal's design. Similarly, as a visiting card for our visitors, it is hoped to transmit a modern, pleasant, dynamic image, a reflection of our territory and culture.
The building, 15 metres high and with an area of 3,200 usable square metres, has been conceived as a great rectangular glass container, light in form and bright, protected by a light zinc roof with six skylights to give the impression of even more brightness: it slants to a close, which gives it a more dynamic appearance.
To cater for the embarking and disembarking needs of passengers commencing or finishing their cruise in Getxo- where baggage management is fundamental- the building has been conceived bearing in mind the differentiation between passenger and luggage flows. Likewise, for operational reasons, embarkation and disembarkation areas will be differentiated with independent lanes, and will have different stairways for passengers entering and departing to facilitate passenger movements. Doubling interior accesses will become a key factor for those ports like Bilbao who wish to put themselves on the map as cruiser base ports.
Another important feature of the terminal is that it opens towards the vessels, thus facilitating embarkation and
disembarkation manoeuvres, and guaranteeing passenger comfort. According to the designers "passengers will access the terminal and/or the vessel directly, comfortably and safely, without having to walk along the pier, thanks to a finger or gangway similar to those used at airports". Besides, this infrastructure will adapt to any vessel embarkation height, regardless of size, and will also be adaptable for disabled people. This will also be financed by the Port Authority and will suppose an investment of 1 million euros approximately, included in the total works cost.
Maleten zirkulazioa eta itsasontziak behar dituen hornidurak kalean egingo dira, atrakalekuaren ondoan, bidaiarien joan-etorritik erabat aparte dagoen eremu batean.
Luggage and vessel supplies movements will be at ground level, next to the berthing area, in a passenger-free zone.
The design has been carried out after an exhaustive study and analysis of the functional demands of this type of building. Special attention has been given to the data provided by the major cruise operating companies, to international vessel safety and security norms in addition to the references from the best terminals in the world.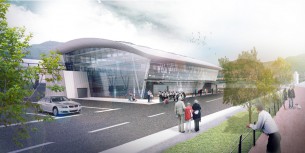 Car Parking Spaces
In accordance with Getxo Town Council demands, the Port Authority has planned to provide the pier with 222 long-stay parking lots, that is for passengers embarking on cruises sailing from Getxo, but which can also be used by the general public when there are no cruise vessels in port.
Likewise, there will be a further 31 parking spaces for terminal staff and 8 more for disabled people, 10 for taxis and finally, 40 for coaches.