The Port Authority of Bilbao has put out to tender the first phase of the development works for the Port of Bilbao Railway Logistics terminal (TELOF in Spanish) at Pancorbo (Burgos) valued at 6.88 million euros with a ten-month completion period.
In this phase, 60,000 square metres will be developed, half of which will be accesses while the other half will be net surface.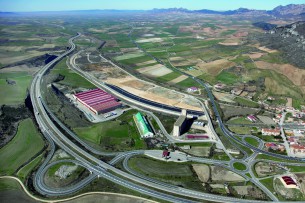 The development area is adjacent to the goods yard. This year, once the works have commenced, the Port Authority will begin to commercialise them.
The terminal has a total surface area of 480,000 square metres, which will be developed in phases in accordance with the needs and cargo types of those customers wishing to set up in the zone and exploit the logistics advantages of importing and exporting through the Port of Bilbao.
Rail Connection
Since early 2015, and after two years of works, the terminal has had a rail connection and service tracks – that is, a 750-metre train reception and despatch track together with two electrified shunting tracks for 650 and 100 metre operation. The track gauge is Iberian, although it can change to international standard.
The Port Authority invested 13.8 million euros in the works and the project also received European aid as part of the IBUK-Intermodal Corridor Project.