Between January and June, 15.5 million tonnes of goods were handled through the Port of Bilbao facilities, which is 3.22% up on the same period for last year. This growth is due to a boost in liquid (+8%) and solid (+3%) bulks.
Container traffic stood at 303,169 TEUs – a similar figure to that of the first half of last year.
The European Atlantic is still the main traffic origin and destination, but little by little, transatlantic markets are catching up, with significant increases in the North American Atlantic (+6%) and especially the African Atlantic (+133%).
Investment stood at 14.8 million euros in the first half of the year, and throughout 2015 the Port Authority of Bilbao will invest a total of 47 million.
Among the projects the Port Authority carried out during this period, the following are the most important: the supply and placing of spoil for future closed precincts on a new Port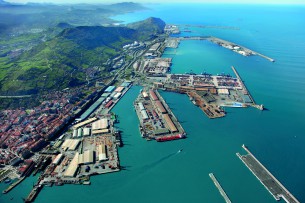 dock, a project to construct new interior rail accesses and service tracks for the Pancorbo Rail Logistics Terminal, and the extension of the Punta Sollana Breakwater. The latter works are co-financed by the EU as part of the "Efficient Operations and Environmental Performance Improvement Plan in the Port of Bilbao".