The Port Authority of Bilbao wishes to express its deep satisfaction at the agreement reached between the Autonomous Basque Government and the Spanish Ministry for Economic Development in order to boost and deliver one of the oldest demands of the Bilbao Port Community – the southern rail freight bypass, which avoids sharing the line with passenger trains.
It is indispensable for the Port of Bilbao to have good communications both by road and by rail if it is to attract more traffic and new markets, and, in consequence, to create both greater wealth and more employment. To achieve this, an improvement in rail accesses is essential.
The agreement announced today by Arantza Tapia, the Basque Minister for Economic Development and Infrastructures, will therefore enable the construction of an infrastructure that will increase the capacity for rail freight entering and leaving the Port. At the same time, it will avoid the discomfort freight trains cause to residents of Eskerraldea, and allow the port town of Santurtzi to recover the present area occupied by tracks for the leisure of its inhabitants.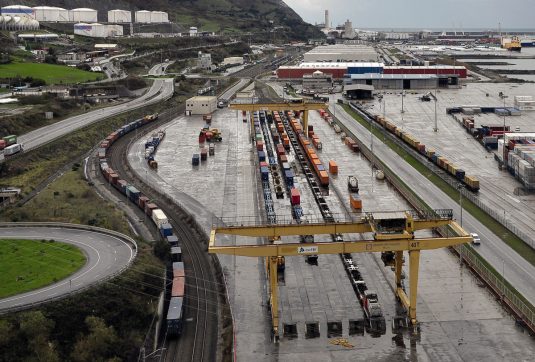 Port-Rail Traffic
Rail traffic entering or departing the Port of Bilbao has been gradually increasing in recent years. Thus, 2016 produced a 20% growth in this traffic.
There were 4,578 trains in all (+9%), of which 3,786 went to port terminals (+11%). Dry cargo using this transport mode stands at 19%, which increases to 21% for containers.