After travelling 20,000 km and successfully passing all mandatory sanitary controls, the 42 blades for the wind turbines that will form part of Iberdrola's new Puylobo wind farm project in Aragón, Spain, have been unloaded in the Port of Bilbao.
The EUR 50 million Puylobo wind farm will consist of 14 units of SG 3.4-132 wind turbines; a model with a 64.5m long blade, optimal for medium and high wind sites. Over 120 professionals will be involved in its construction. Once the park is in operation later this year, it will supply clean energy to a population equivalent to 20,000 homes per year and will prevent the emission of 32,000 tons of CO₂ per year.
Iberdrola has taken delivery of the blades, manufactured in China by Siemens Gamesa, for planning reasons, whilst it completes the civil work on the wind farm, supported by local suppliers. The rest of the wind turbine elements – towers, nacelles/hubs, generators, gearboxes and transformers – are being manufactured at facilities in Asturias, Cantabria, Soria and Burgos. The manufacturers also have a storage terminal in the port of Bilbao itself. Port stevedores and companies such as Servicios Logísticos Portuarios (SLP) and Transporte Aguado have taken active part in the unloading and subsequent transfer operations.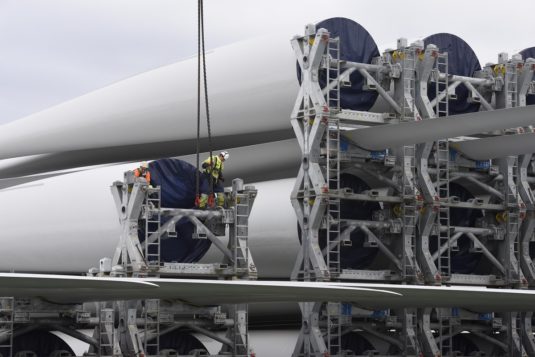 For Iberdrola, "renewables can become one of the key levers for reviving economic activity and employment in times marked by the coronavirus, and for building a new model around green principles".
The heavy transport ship ZHI XIAN ZHI XING set sail from the port of Qinhuangdao in China on March 7. On its journey it passed the coast of Vietnam, crossed the Straits of Singapore and Malacca, crossed the Gulf of Bengal to Sri Lanka and the Laccadive Sea, sailed up the west coast of India and crossed the Arabian Sea to the Gulf of Aden and the Red Sea. After going through the Suez Canal, it entered the Mediterranean, crossed the Strait of Gibraltar, travelled along the coast of Portugal into the Bay of Biscay before arriving to the Port of Bilbao.