This morning, the Port Authority of Bilbao organised a visit to the works on the Arasur Rail Platform which were recently awarded. Among other authorities and company representatives, the Port Authority Chairman, Mr Asier Atutxa, was accompanied during the visit by the President of the Autonomous Basque Community, Mr Iñigo Urkullu, the Autonomous Basque Minister for the Environment and Territorial Policy, Ms Ana Oregi, the Deputy General of the Territory of Alava, Mr Ramiro González, the Vice Deputy General, responsible for Economic Development and Territorial Balance, Ms Pilar García de Salazar, the Mayor of Ribera Baja, Mr Peio Ruiz, the Chairman of Arasur, Mr Luis Viana and the Director of Arasur, Mr Asier Axpe.
The project was awarded on 20 April after a public tender to the temporary consortium formed by Construcciones Mariezcurrena, S.L. and Construcciones y Promociones Coprosa, S.A. at a cost of 5,319,584 euros with a 15-month completion period.
The facility will have two tracks for train reception and despatch and another two for loading and discharge. The four tracks will each be 450 metres long and will be able to switch from Iberian to international gauge. There will also be a loading bay fitted out to enable intermodal cargo transfer.
In addition, in early December 2015, the Port Authority purchased some 68,500m² of land at an approximate cost of 3 million euros in order to connect this facility to the Spanish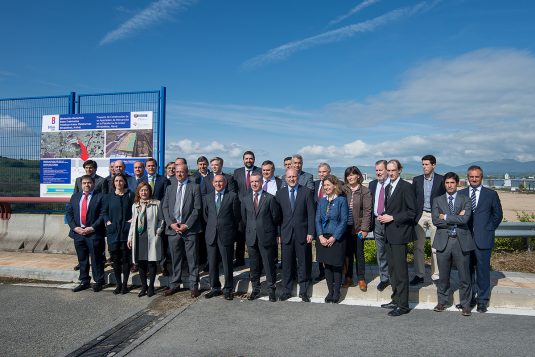 general interest rail network and the later exploitation of this dry port.
It is estimated that 6.3 million tonnes, whose origin or destination is in Alava and its immediate hinterland of La Rioja and Navarre, are exported/imported by road or through ports other than Bilbao. Of these 6.3 million tonnes, it is estimated that 2.2 million can be attracted towards the Port of Bilbao, with competitive advantages for shippers if combined with the Arasur rail Platform.
Thus, this project will connect Bilbao to what is considered to be a strategic hinterland, increase Arasur activity, promote company location in the area and will suppose a boost for the Basque economy, while at the same time offering competitive advantages for shippers and benefits in general for the environment, since there will be less congestion on the roads.