First company in Basque Country to receive this Spanish Institute for Health and Safety in the Workplace award
At the First Congress of the Spanish Network of Healthy Companies: a 360º vision of employees' health organised by the Spanish Institute for Health and Safety in the Workplace (INSHT in Spanish) in Madrid, the Port Authority of Bilbao received a diploma in recognition of its good practices for promoting health in the workplace. It is the first and only company in the Basque Country to receive this award.
All the companies receiving awards must have signed the Luxembourg Declaration on Workplace Health Promotion and have passed the good practices verification process. The Port Authority signed the Declaration in 2014, thus committing itself to integrating the basic principles of promoting health in the workplace, to managing its employees' health in addition to accomplishing its obligations with regard to risk prevention.
In this sense, in 2014, the Prevention Area of the PAB set up the Portu Osasuntsua (Healthy Port in Basque) programme with a view to successfully creating a work space to protect, promote and support the total physical, social and cultural wellbeing of PAB employees. The company management is wholly involved in the programme, and the unions are in support: it is based on the close collaboration between the Prevention and Human Resources Departments.
The PAB plan comprises several different actions, campaigns, programmes and strategies aimed at the achievement of a healthy working environment. All are based on general health strategies which intend to cover deficiencies that have already been discovered in the organisation, or to improve situations the employees themselves request. All these activities are set out in four work routes, based on the WHO definition: the workplace's physical environment; its psychosocial environment; company participation in the community (social-corporative responsibility); and personal health resources in the work space.
Since then, the PAB plan has received another two awards for its efforts. First was the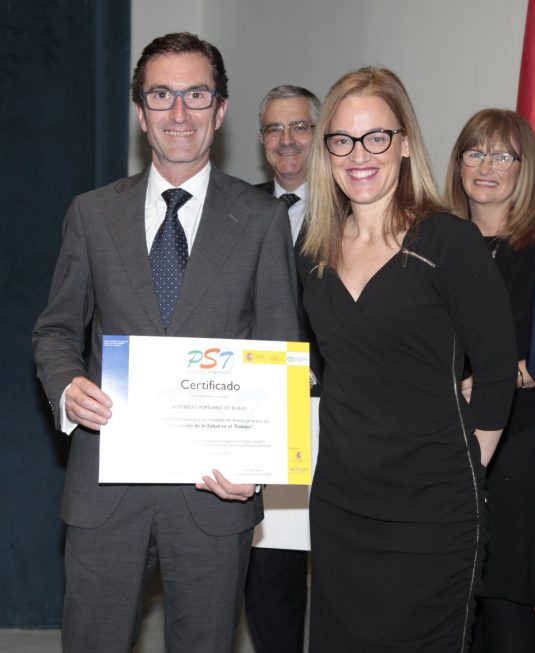 three-star "Sello Gosasun" award – the highest honour this programme confers. It is an award promoted by Innobasque, the Basque Agency for Innovation. Then, at the II "Empresa Saludable" (Healthy Company) Awards, the most prestigious in Spain in this field, and organised by PSYA, ORH-Human Resources Observatory and e-saludable, the Port Authority was awarded with a special mention for the "Best Programme for Health Control".
Congress 10 June
As part of the activities concerning health promotion, the Port Authority, in collaboration with Osalan, the Basque Institute for Work Health and Safety, has organised a one-day congress for Basque companies to be held on 10 June at the PAB general offices at Santurtzi. Mr Asier Atutxa, PAB Chairman and Mr Ángel Toña, Autonomous Basque Government Minister for Employment and Social Policy, will inaugurate the proceedings.