20% increase in calls expected this season.
On 5 April, P&O Carnival's Azura will inaugurate the Port of Bilbao cruise season. This vessel, 290 metres long with a 36-metre beam, has a capacity for 3,600 passengers and 1,560 crew. It will arrive at about 8.00 hours from Corunna and will remain at Getxo until 18.00 hours, when it departs for the French port of La Rochelle.
The cruise ship has 1,557 cabins spread over 14 decks, a gymnasium with underwater views, a thermal water spa, a large auditorium, an open-air cinema and the first floating restaurant to be distinguished with a Michelin star.
Greater number of calls
In the 2015 season, 43 cruise ships called at the Port of Bilbao facilities at Getxo, while a 20% increase is expected for this year.
Pullmantur's commitment to disembark passengers at Getxo again stands out as they will do in June and September, with routes through the North of Europe. The June route will comprise Lisbon, Vigo, Bilbao, Dover, Amsterdam, Copenhagen and Rostock.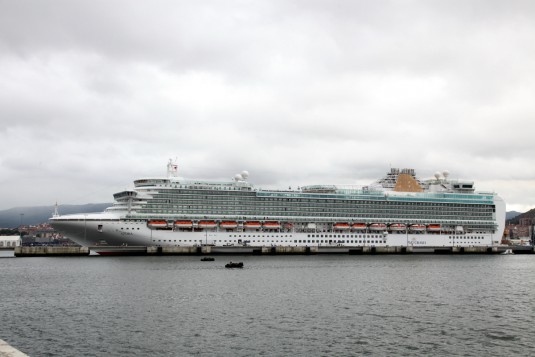 This season, emblematic cruise ships such as the Royal Caribbean Cruises Ltd (RCCL) Celebrity Silhouette and Ovation of the Seas will also make their first calls. The latter vessel is 348 metres long and has a capacity for 4,180 passengers. The same company's Celebrity Constellation will berth overnight in the Port of Bilbao as will the Balmoral, owned by the British company, Fred Olsen.
In 2016, we will also be visited in May. July and August by the imposing Britannia (P&O – Carnival), which is 330 metres long and holds almost 4000 people. Last year, the Port of Bilbao was included in its maiden voyage.